How to Plan the Perfect Itinerary in Rwanda & Uganda
The go-to resource for planning your safaris. Find all you need to know about the top destinations and make your wildlife travel dreams come true.
Discover Safari Holidays now
If you ask travelers who have a soft spot for wildlife what type of experience tops their bucket list, chances are, you'll find gorilla trekking in the wild listed.
Those who have done it assure everyone it's a life-changing experience. Those who haven't, cannot wait to go.
Today, there are only three countries in the world where you can go gorilla trekking: Rwanda, Uganda, and the Democratic Republic of Congo. Due to the instability in the latter country, most visitors opt for traveling to Rwanda or Uganda.
While Rwanda is smaller and easier to tackle, Uganda is quite large and getting from one point to another often takes a long time. This is why planning the perfect itinerary for your Rwanda and Uganda safari may not be so easy.
Thus, in this article, we've put together a flexible set of suggestions that allows you to see the best of Rwanda & Uganda according to your travel preferences and budget.
But first, when is the best time to visit both Rwanda & Uganda?
Luckily, the best time to visit both countries is relatively similar.
If you are heading to Rwanda for a gorilla trekking tour, then you should travel during one of the dry seasons: mid-December to early February or June to September.
However, should you want to go chimpanzee trekking in Nyungwe, then it's best to travel during one of the wet seasons: mid-February to early June or mid-September to mid-December.
Whereas if you want to visit Uganda for gorilla trekking in Bwindi, then you need to travel during one of the dry seasons: December to February or June to August. These months are also great to explore Murchison Falls and Queen Elizabeth National Park.
How long should I stay in Uganda & Rwanda?
Should you only have gorilla trekking on your mind, either Rwanda or Uganda is a great choice and you can spend as little as 3-4 days on a tour.
However, gorilla trekking permits are significantly more expensive in Rwanda (USD 1500) than in Uganda (USD 600).
On the other hand, Rwanda is much smaller than Uganda and getting from Kigali to Volcanoes National Park is far easier than getting from Kampala to Bwindi Forest National Park.
Should you want to spot other wildlife while on your trip, then Uganda is a better choice than Rwanda. Combining gorilla trekking with a visit to Queen Elisabeth National Park and/or Murchison Falls National Park requires at least a 5-day trip.
If you want to get to know both countries, you would need to plan for at least a 10-day trip.
When it comes to transportation, Rwanda has a great bus network that can get you from the capital (Kigali) to Volcanoes National Park. Many companies are operating on the route and the buses depart frequently from the terminal.
Cities in Uganda are also served by buses. There are ways to get on your own from Kampala to Bwindi but the travel time by route is very long (at least 8 hours) and flights are preferred.
It is, however, recommended to opt for an organized safari to avoid the headache of planning and navigating the public transportation options or driving on your own.
It's also important to note that Rwanda is considered a luxury destination, therefore Uganda is overall more affordable and also offers budget options.
Rwanda & Uganda: Most popular safari destinations
Kigali, Rwanda
Photo credit: Zenith4237
Kigali International Airport (KGL) serves the capital of Rwanda, Kigali, as well as other destinations in the country. It is the hub for RwandAir, which operates flights on the continent. But there are also some international flights from Europe (Amsterdam, Brussels) and the Middle East (Doha) serving Kigali.
While most safari organizers choose to minimize the time spent in the city, Kigali deserves at least one day to be discovered.
The bustling streets and winding boulevards together with its lush hillsides, recommend Rwanda's capital as one of the most attractive cities in Africa.
Located roughly at the center of the country, it is an excellent entry point for your explorations.
The country gained its independence from Belgium in 1962 and in 1994, it was the scene of what now is known as the Rwandan Genocide. The victims were buried in mass graves at Kigali Genocide Memorial. Three permanent exhibitions shed even more light into the recent history of this African nation.
For a truly immersive experience, head to Kimironko Market, where vendors from the country, as well as East, Central, and West Africa sell their wares. Aside from fruits, vegetables, meat, and seafood, you can also find crafts, souvenirs, and fabric.
Rwanda is also a foodie destination you should not miss. And Kigali is a great place to dig into the local cuisine. A classic dish is Big Fish (giant tilapia) which can be found in the capital's restaurants. Grilled and stuffed with onions and spices, one can feed up to 3 people.
If you like your meat on the stick, then go for brochettes. And should you prefer pork meat, then don't miss tasting akabenz. Vegetarians and vegans should try matoke, a hot and spicy dish made from plantains steamed in banana leaves.
Wash everything down with urwagwa, a beer made from fermented banana juice and sorghum flour.
Akagera National Park, Rwanda
Photo credit: Wulfstan
Located just 110 km / 68 miles from Kigali, Akagera National Park can easily be visited as part of a day trip from the capital.
The preferred way to get to the park from Kigali is by car. Kindly note that it's mostly dirt roads so a 4x4 is the best choice, especially during the wet season.
The park is lush and teeming with wildlife and birds. The terrain combines wetlands with the savannah wilderness and is home to various species of antelopes, giraffes, warthogs, zebras, buffaloes, elephants, and olive baboons.
Should you decide to stay the night, Akagera Game Lodge is the typical choice. And in case the guide forgets to remind you, be sure to close the windows at night or you may wake up to a friendly baboon sharing the bed with you.
Generally, Akagera National Park is included in a multi-day safari visiting other national parks in Rwanda.
Photo credit: Kubwa Five Safaris
The easiest way to get to Volcanoes National Park from Akagera National Park is to drive a rental car. The trip takes 5 to 6 hours (about 300 km / 186 miles).
Another option is to drive back to Kigali (about 2-3 hours) and from there either continue in a rental or take a bus going to Volcanoes National Park. The bus ride takes about 4 hours.
Located in the far northwest of Rwanda, Volcanoes National Park protects the Rwandan part of the Virunga Mountains, home to the endangered mountain gorillas.
The park is famous for being home to the dedicated primatologist Dian Fossey, who fought to save these magnificent primates.
Most travelers come here to track mountain gorillas. The forest is, however, also alive with the chirping of about 200 colorful birds and chattering of golden monkeys.
There are 10 habituated families of mountain gorillas. Trekkers need to get a permit (USD 1500) to be able to interact with them for an hour. Permits are issued by the Rwanda Development Board and need to be secured in advance.
Travelers may also track golden monkeys in this region. They can only be found here and in Mgahinga Gorilla National Park (Uganda) so getting a chance to see them is a unique experience. Permits are required (USD 100).
More adventurous travelers should hike one of the three extinct volcanoes located within the park. Mt Karisimbi is the most popular and offers spectacular views of the scenery.
Also, travelers can also enjoy guided tours through the cave systems in the area.
Three days in Volcanoes National Park is enough to enjoy the best of what it offers.
Combining Volcanoes National Park with other destinations in Rwanda
While it's very much possible to travel on your own between the Rwandan destinations, it's not recommended to do so unless you are familiar with driving in the country and its roads.
If you are planning a family safari, the teens and elderly will benefit more from an organized tour. Not having to worry about navigating the bumpy roads and spending hours at the wheel will make for a more relaxed trip.
Three to six days are enough to embark on a journey to discover the endangered gorillas, see other primates (such as chimpanzees or golden monkeys) and do some hiking.
Some of the popular combinations include:
Kigali, Volcanoes National Park, and Nyungwe Forest National Park (6 days)
Kigali, Volcanoes National Park, and Lake Kivu (5 days)
Nyungwe Forest National Park, Lake Kivu, Volcanoes National park, Iby'iwachu Cultural Village, Dian Fossey Tomb (5 days)
Kindly note that most tours have the pick up and drop off points at Kigali's airport.
Lake Bunyonyi, Uganda
Photo credit: Carine06 via Flickr
Tucked away in the gorilla highlands and only 96 km / 60 miles from Volcanoes National Park, Lake Bunyonyi is unknown to many visitors.
If you are looking to relax, swim, explore the lake on a canoe, hike, bike, go on birding tours, or do some island hopping, you've come to the right place.
Lake Bunyony constantly ranks on Lonely Planet's list of best places to relax and chill out in Uganda. Free of crocodiles and hippos, the lake is perfect for a swim.
Do note that the lake is deep, so you need to be a good swimmer. Else, you can always choose a lodge with a swimming pool.
Should you prefer to go on nature walks or hikes, you need to know that they don't require you to be very fit. Plus, guides go with you, so you won't get lost or miss any of the highlights on your walk. If you prefer to explore the area around the lake by bike, you also get a guide (or a safari vehicle will always be handy).
Allow at least an overnight to relax after the gorilla trekking you've done in Rwanda. And if you want to explore the area a bit more, why not make it a longer stay?
Lake Mutanda, Uganda
Photo credit: Fanny Schertzer
Just 60 km / 37 miles from Lake Bunyonyi, you can find Lake Mutanda. Easily tackled during a day trip, it one of the most beautiful lakes in the country.
This area is also excellent for hiking, biking, and canoeing.
Mgahinga Gorilla National Park, the smallest national park in Uganda, is close by. While it is famous for the interactive Batwa Trail where you learn the ways of the Batwa People, there are also some volcanoes to hike and gorillas to see.
Bwindi Impenetrable National Park, Uganda
Photo credit: Rumara Safaris (SMC) Ltd
Bwindi Impenetrable Forest is Africa's oldest rainforest. From Lake Mutanda it takes about 3-4 hours to travel here by rental car.
Undoubtedly, the highlight of your trip to Uganda is going gorilla trekking in Bwindi. Permits need to be obtained well in advance and they cost USD 600.
---
Learn more about gorilla trekking in Uganda.
---
Bwindi is also one of Africa's leading birding destinations. Home to over 350 species, it is a twitcher's paradise. If you want a chance to spot the globally threatened species such as the shelly's crimson wing, Chapin's flycatcher, and African green broadbill, Bwindi should be on your list of places to visit.
The more adventurous travelers will enjoy the forest walk to the amazing waterfalls located within the park. Along the walk, you'll see plenty of flora and fauna, including colobus monkeys, blue monkeys, orchids, and butterflies.
There are six nature trails in Bwindi. A guide will be with you all the time, so you won't get lost and make sure you are not missing any of the highlights.
It is also possible to go on a cycling and mountain biking tour in Bwindi. The trail is well maintained and spans over 13 km / 8 miles. The round trip takes six to seven hours and along the route you'd be able to catch a glimpse of the wildlife.
Three to four days are enough to explore Bwindi, especially if you want to focus on gorilla trekking.
Do note that staying in lodges in Bwindi tends to be more expensive than in other Ugandan national parks. But the prices are still lower than in neighboring Rwanda.
Queen Elizabeth National Park, Uganda
Just 150 km / 93 miles (and 3-4 hours drive) from Bwindi, there's Queen Elizabeth National Park. It is the oldest national park in the country and one of the most popular.
The park is home to four of the Big Five animals: the lion, the leopard, the Cape Buffalo, and the African elephant. Typically, the game drives are done during the morning. Your guide will make sure you won't miss any sighting!
Also, you shouldn't miss catching a glimpse of the climbing lions, which are found in the Ishasha sector. Yes, you read that right: lions love to climb in acacia and fig trees! The reason why lions prefer to climb trees than sit on the ground is still a great mystery, though.
And if you are still not over primates, you should know that in the Kyambura Gorge, you may go chimpanzee trekking. They are habituated but this doesn't mean they cannot be a handful to trek.
Home to over 600 bird species, Queen Elizabeth National Park is one of the best birding tour destinations in Africa. You may even spot flamingos, which live at the Katwe and Bunyampaba salt lakes. Various species of eagles, owls, and canaries also inhabit this park.
A little-known activity in the park is being able to observe the banded mongoose at the Mongoose Research Area on the Mweya Peninsula. This is a 3-hour activity that can be done with a guide. As you hike along the Kazinga Channel, you'll be rewarded with views of the magnificent wildlife.
While Queen Elizabeth Park can be easily tackled in as little as 2 days, you may want to linger a little longer and get to know its "residents".
Kibale National Park, Uganda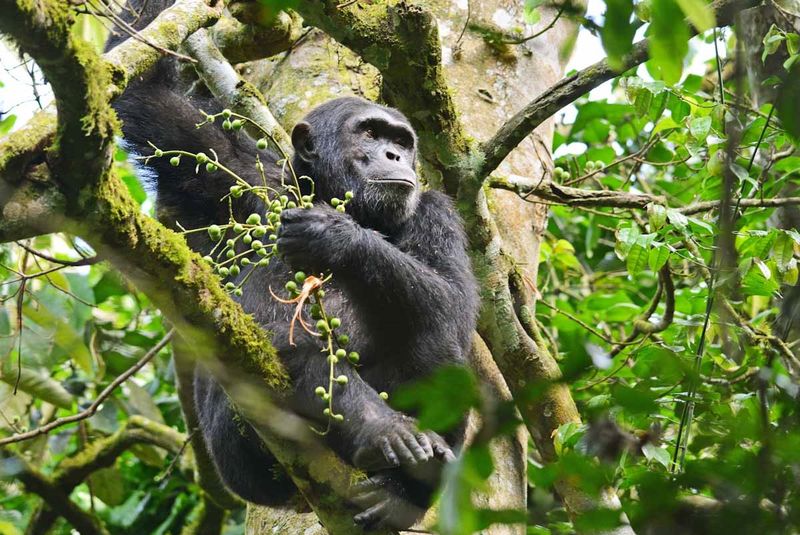 Photo credit: GoExplore Safaris
The distance between Queen Elizabeth National Park and Kibale National Park is about 140 km/87 miles. That's about 3 hours drive.
Kibale National Park is the best place for chimpanzee trekking in East Africa. Home to 5,000 chimpanzees, it is also one of the most diverse parks in the country. The permit's prices vary according to the season (USD 150 during the high season and USD 100 during the low season).
Nocturnal guided walks are available, and they allow you to catch a glimpse of the bushbabies and pottos, which are nocturnal primates.
The park is also home to savannah and swamp habitats where you can spot about 70 species of mammals, including forest elephants, forest buffaloes, warthogs, antelopes, leopards, and duikers.
Birding enthusiasts will marvel at the 375 recorded species of birds that live here. And if you enjoy butterflies, you'll be rewarded with a chance to spot at least some of the 250 species.
Kibale National Park is an amazing destination for families. While children under 15 may not go chimp trekking, there are walks led by rangers in which younger children can see the flora and fauna. They can also take bushcraft classes. Kindly note that the activities should be booked well in advance.
Three days are enough to explore the best of what this park has to offer, but you'll want to stay a little longer and get to know the animals better.
Murchison Falls National Park , Uganda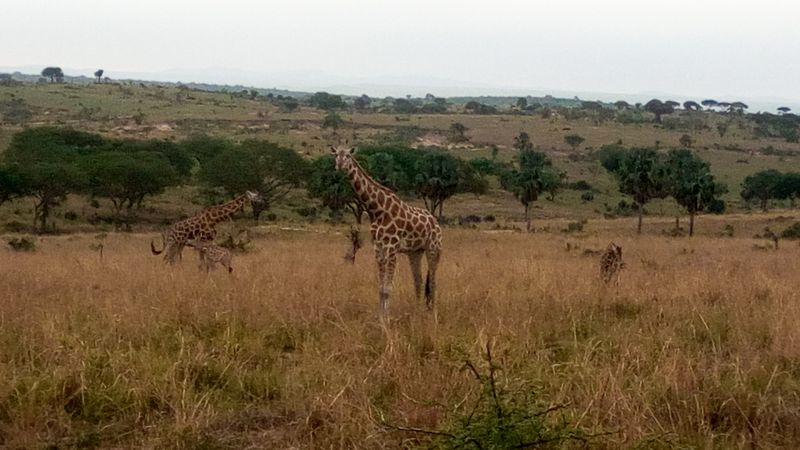 Photo credit: Oikos Safaris
To get from Kibale to Murchison Falls National Park, you need to drive for about 6.5 h - 7.5 hours (350 km / 218 miles).
The other option is to fly from Kasese (KSE) to Pakuba (PAF) via Entebbe (EBB). It's still a total journey of more than 7 hours but you won't need to tackle so many bumpy roads.
The main attraction in the park is the falls itself. The sights and sounds of the Nile are breathtaking. And yes, there's wildlife in the river too, specifically crocodiles and hippos.
The park also comprises woodland, wetland, savannah, and tropical forest habitats, so there is quite a variety of animals to be spotted here including lions, endangered Rothschild giraffes, warthogs, Cape buffalos, Uganda kob, bushbucks, and elephants.
Night game drives are permitted in this park. You may be able to spot the predators – hyenas, leopards, and lions - out on a prowl. The night game drivers take two hours and run at dusk or after the darkness has set in.
Nature walks, boat cruises, and birding tours are also popular activities in Murchison Falls National Park.
It is considered the best Ugandan park for a short safari tour. Two days are enough to experience plenty of activities here.
Kampala, Uganda
The fastest land route from Murchison Falls to Kampala is about 4.5 h by car (about 280km / 174 miles). Buses are also available, and the travel time is slightly longer (5.5 h).
However, the most efficient way to travel is by plane, from Pakuba (PAF) to Entebbe (EBB). The flight takes about 3.5 hours.
While most safari operators will whisk you directly to Entebbe International Airport, you may want to stay for a day or two in Kampala.
Although not widely known for its sights, the capital of Uganda does offer some fascinating places and things to do.
For example, there are many craft markets to explore. Some are in fixed locations, while others are weekly or monthly.
Gadaffi Mosque is the largest mosque in the capital and boasts some amazing views from the minarets. Tourists are even allowed to take photos and walk around the mosque at will.
While if you are interested in the Christian faith, Namirembe Cathedral is one of the most beautiful protestant churches in the capital. Rubaga Cathedral is a Catholic church located on a hill and offering excellent views of the area.
Lake Victoria is nearby and can easily be visited as part of a half-day boat cruise. If you plan to visit it, make sure to arrive in time to catch the sunset and pair the view with some freshly caught tilapia as your dinner.
Combining Bwindi Forest National Park with other destinations in Uganda
To make the most of your time and money, it's recommended that you book a multi-destination safari in Uganda.
Three to eight days are enough to enjoy the best of Bwindi Forest National park and at least another park.
Some of the most popular combinations include:
Murchison Falls National Park, Kibale Forest National Park, Queen Elizabeth National Park, and Bwindi Forest National Park (8 days)
Lake Mburo National Park and Bwindi National Park (4 days)
Queen Elizabeth National Park and Bwindi Forest National Park (4 days)
Kindly note that the safari tours pick up and drop off point is Entebbe International Airport.
Combing the most important safari destinations in Rwanda & Uganda
Choosing a multi-country safari makes for a more relaxed vacation. Your safari operator will handle all the transfers to/from the airport, as well as between the safari destinations sparing you the need to navigate the roads on your own or figure out the public transportation.
You should allow for at least six days for a safari combining the best of Rwanda & Uganda. Ideally, you want to spend 10-14 days in this area. Most safaris include the popular Bwindi National Park, but you should also include at least one of the stunning lakes to relax after the time spent in the forest.
Some of the most popular combinations include:
Bwindi National Park and Volcanoes National Park (6 days)
Akagera National Park, Bwindi National Park, Queen Elizabeth National Park, Kalinzu Central Forest Reserve, and Lake Bunyonyi (8 days)
Nyungwe National Park, Musanze Volcano National Park, Queen Elizabeth National Park, Bwindi National Park, Lake Bunyonyi, and Lake Mburo (10 days)
Kindly note that airport transfers are included in most packages but make sure to inquire with the operator about the details.
---
Ready to embark on an African adventure of a lifetime? Why not book a gorilla trekking safari in Uganda & Rwanda?