What You Need to Know About Mountain Gorilla Trekking in Uganda
The go-to resource for planning your safaris. Find all you need to know about the top destinations and make your wildlife travel dreams come true.
Discover Safari Holidays now
You are trekking in the Ugandan tropical forest. One moment you aren't sure why you decided to do the trek, the other your guide motions to make a stop and points to the tree just near you. A large mountain gorilla is watching with curiosity. You fumble but somehow manage to take a photo making sure to capture this surreal moment.
Observing gorillas in their natural habitat is definitely one of those experiences that will likely change you. It is an opportunity of a lifetime and leaves little to wonder why it's on many safari-goers bucket list.
However, planning a gorilla trekking safari in Uganda may not be the easiest or simplest of tasks. That's why, in this article, we answered some of the most frequent asked questions about gorilla trekking:
where and when to go
how to obtain the trekking permit
how physically fit you need to be
and what to pack.
Where can you spot mountain gorillas?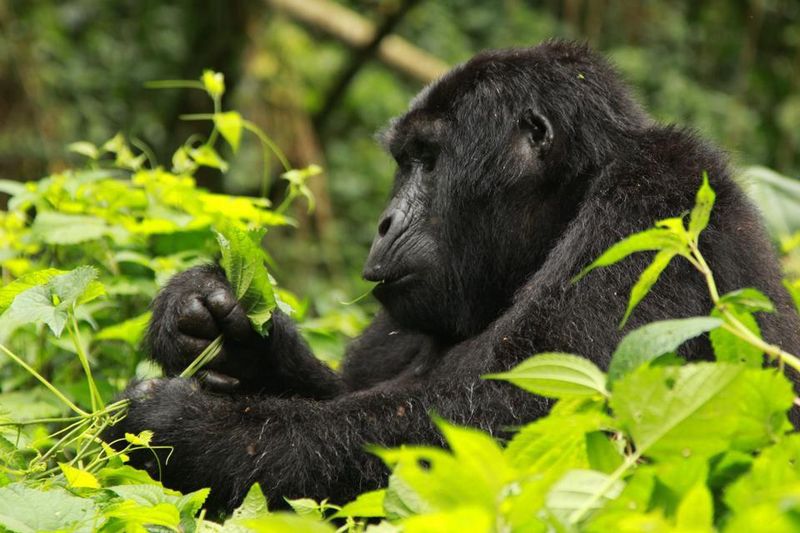 Fun fact: Mountain gorillas were not discovered until 1902.
These days, they are likely to be found at high altitude in mountain forests as well as bamboo forests. Over the 100 years since their discovery, they have endured a dramatic decline in population, but recent conservation efforts ensure that the population is steadily increasing once again.
There are two mountain gorilla populations in Uganda:
Because these primates are highly endangered and protected, visitors need to pay hefty fees for the gorilla trekking permits to see these magnificent creatures.
Kindly note that, by paying for a permit, you are helping the conversation efforts! Most of the money earned through gorilla tourism contributes significantly to the conservation projects and creates jobs bringing benefits to the local communities living near the parks.
When is the best time to go gorilla trekking in Uganda?
Bwindi is open for gorilla trekking year-round. However, the best times to go are from June to July and December to February.
These months coincide with the drier time of the year when the trails are easier to tackle. Do remember that even though the weather is drier, the climate is still tropical, and rain gear should be packed. Don't forget to properly protect your camera, too.
However, you should note that June and July are also high travel season months, therefore gorilla trekking permits should be booked well in advance.
On the other hand, February is also a great month for gorilla trekking in Uganda. There are fewer tourists and the lodges are not usually fully booked.
Should you go gorilla trekking in Uganda during the low season?
The low season last from March to June and October to November. Aside from the weather being very wet, some lodges and camps close down. However, the permits are cheaper and there are fewer tourists in the park.
On the plus side, the gorillas' locations are more predictable during the wet season. Much of their food can be found on the lower slopes, where it is warmer, and therefore that's where they'll also be.
The rain and constant drizzle, however, may interfere with the experience and with taking photos. You need excellent rain gear for yourself and your equipment.
How can you obtain the gorilla trekking permits?
When you book a gorilla trekking safari, you also submit the request to obtain a gorilla trekking permit.
Please note that you must obtain the permit months in advance, especially when traveling during the high season. There are only 100 permits issued per day.
You will need to pay the fee at the time of booking the safari to secure the permit. The permit costs USD600 per person for foreign non-residents and it is typically included in the safari price.
Share with the organizer your preferred dates and they will be able to check the availability and get back to you with an invoice.
Please note that you also need to send the passport details as they are needed by the Uganda Wildlife Authority to print and issue your gorilla permits.
Only after the permit is obtained, gorilla trekking is guaranteed. The organizer will send you a scanned copy of the permit.
How fit should you be for a gorilla trekking safari?
Travelers are advised to be physically fit before embarking on a gorilla trekking safari. This is needed to prevent challenges that come with hiking long hours and at high altitude.
Please note that you need to tell your guide your fitness level during the pre-trekking briefing so that you would hike to gorilla families suitable for your level. Those less physically fit will be allocated families that live at low altitude, whereas those physically fit will go gorilla trekking at higher altitudes.
A good way to prepare for a gorilla trekking experience is to walk, hike, use the treadmill at the gym, and stretch as part of your regular fitness regimen.
However, it is still possible to trek gorillas even if you are disabled or aged. There are sedan chairs that are carried by four porters into the jungle. Kindly note that using such chair adds to the cost of the safari.
What should you pack for a gorilla safari?
Once you have the gorilla safari package details figured out, it's time to know the most important items to pack to ensure an amazing time during your trip in Uganda.
Lightweight hiking boots: For trekking in the tropical forest
Garden gloves: When you slip, you will need to hold onto something, and you certainly don't want to harm your hands in the itching plants
Rain jacket: Rain falls throughout the year in Bwindi
Long-sleeved blouse and long trousers: To avoid insects climbing all over your skin
Camera (and extra battery): include a spare set of batteries charged and ready to go. Both tele and wide lenses are great to have handy.
Hat and sunglasses
Binoculars
Insect repellent
---
Ready to embark on the most exciting experience of your life? Go on gorilla trekking safaris in Uganda and be marveled by these amazing primates firsthand!