Safaris in Kenya: Useful Information You Need to Know
The go-to resource for planning your safaris. Find all you need to know about the top destinations and make your wildlife travel dreams come true.
Discover Safari Holidays now
Let's face it: Africa is a long journey away from where most of us are based.
Africa is also very large, making the task of gathering good information for your travel plans that more challenging.
One of Africa's most famous destinations is none other than Kenya – the country that some might refer to as the origin of safaris.
Whether your travels to Kenya are motivated by eagerness to spot wildlife on safaris, or by your curiosity of its culture, rest assured that, in this article, you'll find useful information to plan your trip to Kenya and make the absolute best out of it!
Note: BookAllSafaris offers a flexible cancellation policy. Should you not be able to travel as scheduled, we'd be happy to help you alter your booking with the same organizer or a different organizer.
What is the best time to visit Kenya?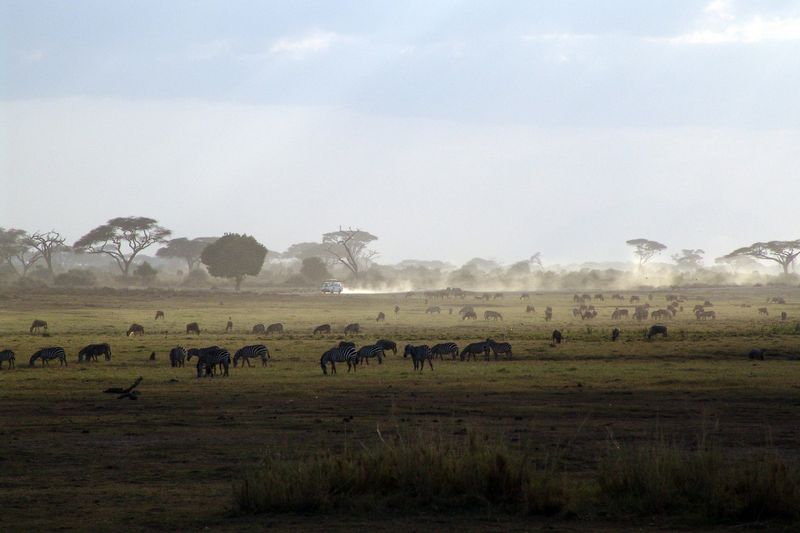 Before choosing what to do during your trip to Kenya, it's important to know the best time to visit the country.
Truth be told, choosing the right time to go depends mostly on your travel style and budget. Here is a run-down of what to expect during each season.
June to October – The Dry Season
Wildlife viewing is at its best during this time of the year. The bush is less dense, and the animals' behavior is easier to predict as they gather around the waterholes and rivers.
The skies are clear, the days are sunny, and it's unlikely to rain. There aren't many mosquitoes, either.
Should you plan to visit Kenya for the Great Migration, make sure to book your safari from July to October.
The dry season coincides with the high season; therefore, the prices are higher and most popular parks are crowded.
November to May – The Wet Season
It's the best time to catch a glimpse of the baby animals. The scenery is lush and green.
The migratory birds can be seen from September to April; and, in general, there are plenty of other species that can be spotted during this time of the year. Raptors and storks usually migrate around mid-November.
Also, the large herds of elephants return to Masai Mara after most of the wildebeest, gazelles, and zebras have left. However, you can still spot many zebras, gazelles, and wildebeest in the reserve.
From March to May, the rain can be continuous, so it's best to avoid traveling at this time of the year especially since some lodges and camps close down. During the rest of the wet season, the rain comes in short showers in the afternoon or evening.
Should you be looking to book a budget safari in Kenya, please note that the wet season coincides with the low season and is the perfect time to go on a safari if you want to save some money.
What can I do in Kenya?
Kenya is home to the safari tradition, with the first known safaris dating back to the 14th century. Safaris in Kenya have attracted many travelers over the years, including royalty, all wanting a taste of the African savannah.
Masai Mara National Reserve
Africa's most popular reserve, the Masai Mara National Reserve is located in Kenya and is home to the wildebeest migration, the great spectacle of animal migration that attracts those of us yearning to witness the amazing movement that as many as 2 million wildebeest make every year.
It offers great wildlife viewing year-round but, if you want to witness the migration, plan your safari from July to October.
The reserve is also home to all of the Big Five animals – African elephant, rhino, lion, Cape buffalo, and leopard. Sightings are pretty much guaranteed, although the black rhino is more elusive. You'll also be able to catch a glimpse of the big cats, including cheetahs.
---
Planning to visit Masai Mara during your trip to Kenya? Here's our detailed guide to visiting the Masai Mara National Reserve.
---
Amboseli National Park
Elephant enthusiasts would be delighted to make their way to Amboseli National Park, the "Land of Giants". This popular national park offers excellent wildlife viewing and majestic views of Mount Kilimanjaro.
Unfortunately, the black rhino has become extinct in this park, but you may be able to spot the rest of the Big Five. Additionally, large numbers of flamingos are present here during the wet season.
---
Do you want to explore Amboseli during your trip to Kenya? Read our detailed guide to planning a safari in Amboseli National Park.
---
Beyond safaris: the beaches
Beyond the savannah and wildlife, Kenya is also known for its amazing beaches. 30km (28 miles) south of Mombasa lies Diani Beach – an ideal haven for those seeking a little peace and tranquility amidst salty air. But Diani is not Kenya's only seaside gem. Vipingo Beach near Kilifi is also a great escape, with its calm waters and isolated surroundings!
Check out our itinerary for a magical Kenyan adventure and discover how you can easily combine witnessing the incredible wildlife with explore the city and relaxing on the beaches.
Is Kenya suitable for a family vacation?
A family vacation in Kenya makes a trip of a lifetime. Featuring amazing wildlife, breathtaking beaches, rich savannahs, and a snow-capped mountain, Kenya is a diverse country offering plenty of amazing things to do.
Do take note that some reserves along the coast are located in a malaria-risk zone, therefore a vacation here won't be suitable for children under 5-6 years old as it's not advised for them to take anti-malaria medication.
However, Kenya is a great choice for families with children above 8 years old. If your kids are animal lovers, Masai Mara will offer them the perfect setting for the "Lion King" territory and a chance to spot wildlife during game drives. While the lakes offer the perfect places to spot a variety of birds as well as hippos.
Teens (above 12 years old) can also go hiking and have a nice swim in Kenya's beautiful rivers.
There are plenty of lodges and camps that are suitable for families, featuring large family tents, kids' clubs, pools, and activities.
Is a safari in Kenya expensive?
When it comes to price, Kenya isn't known as the cheapest African destination. Hence, if you are on a tighter budget, Tanzania and Zanzibar may be a better choice, as they are gentle on the pocket but still offer a great African holiday.
However, despite being slightly pricier than many other African destinations, Kenya is still considered affordable – particularly if you are keen on experiencing a safari.
More often than not, travelers come to Kenya to see animals frolicking in their natural habitat. The animal population is extremely dense in Kenya, so much so that even its urban capital of Nairobi has its game reserve.
If you are planning on experiencing a safari, keep in mind that safaris come in different price ranges, and we'll explain below, the price tag depends on various factors.
You can keep the budget at the low end by choosing to travel during the low season and opting for a tented safari. And note that group safaris are always more affordable than private ones.
---
Fancy booking a budget safari? Here is a detailed guide about what makes up the cost of a safari.
---
Accommodation
Photo credit: Ultimate Africa Expeditions
Accommodation in Kenya is plentiful and suits any budget and requirements, whether you plan a family safari or a honeymoon. From rustic to luxury, lodges and camps offer a variety of places to stay.
If you prefer to be immersed in nature, a camping safari is an excellent choice for your trip. But if you are more of a brick & mortar kind of person, then a lodge is the option for you.
Activities
Unless you've been to Africa before and have gone on a safari, a self-drive safari may not be the best option.
Between charting out your trip and trying to spot the animals, it will just be too stressful to enjoy your vacation. Plus, you won't benefit from a guide's expertise and experience either.
Instead, book a jeep safari. Let the experts do the driving and animal spotting. You just take photos and make sure not to miss the animals.
If you love to see the wildlife up close and personal, a walking safari is an ideal choice for you.
Private reserve vs. national parks
When you choose a private reserve, it means that you are opting for a more luxurious and personalized experience.
Kindly note that private reserves offer activities that are not available in national parks, such as night drives, off-road game drives, guided nature walks, and crowd-free game viewing. Watching the sunset while on a game drive or nature walk is also a common activity that private reserves offer.
Some private reserves share unfenced borders with the large national parks thus the safari-goers can access all the amenities in the private reserve and have easy access to the national parks.
Private reserves most often use a 4WD open vehicle for the game drive. You benefit from the services of a guide and a spotter. Plus, the small number of people in the vehicle guarantees you'll have great views of the animals.
Visa
As with traveling to other countries, do ensure that your passport is valid up to 6 months after you leave Kenya. Visitors to Kenya are required to pay US$50 for a single-entry visa that lasts up to three months. E-visas are available (and applying online means you will have to pay processing fees).
If Kenya isn't your only destination in Africa, you can opt to apply for an East Africa Tourist visa for US$100, which will allow you to travel between Kenya, Uganda, and Rwanda for up to 90 days. E-visas are also available.
Vaccination
Kenya falls within the yellow fever zone, which makes it essential that you receive a yellow fever vaccine. You will be asked to show your yellow fever vaccination card before you leave Kenya, so be sure to pack that!
Malaria is not an issue in Nairobi but can become a problem in game reserves and along the coast of Kenya. Take along antimalarial medication with you, and dress appropriately to avoid mosquito bites.
Currency
Kenya's official currency is the Kenya shilling (Ksh) and is available in 50, 100, 200, 500 and 1,000 shillings. Be sure to bring along US dollars along with shillings when you travel to Kenya as many hotels and larger restaurants tend to quote prices in US dollars.
While tipping is not mandatory in Kenya, porters and guides usually expect it. You can either tip your porters and guides directly or add it to a gratuity box that is usually present in most hotels and bigger establishments. When dining at restaurants, it is customary to leave a 10% tip.
What to pack for a safari in Kenya?
Packing for a safari is not the same as throwing some clothes in your backpack for a city break. There's nothing worse than to arrive in Africa and realize you don't have the essentials or that you've packed the "wrong" clothes.
It's easy to remember to pack the camera (with the charger and cards), smartphone (with the charger and headphones), and the passport, but some items may fall off the radar.
To make sure you pack all of the essentials, here's a handy checklist:
Daypack. Make sure it can fit a water bottle and a windbreaker plus sunscreen and mosquito repellant. It may double as a camera bag.
Long-sleeved shirt. Make sure it's light and dries quickly. It's perfect to avoid those pesky mosquitoes and any encounter with the thorny bushes.
Long trousers. A light, quick dry pair does the trick.
Light jacket or fleece. It is colder in the evenings and mornings.
Lightweight hiking boots.
Wide-brim hat.
Scarf / Sarong.
Travel adaptor. Not all lodges will have one to land you for the stay.
Power bank.
Note: We strongly encourage those who choose to travel to check local government restrictions, rules, and safety measures.
---
Do you want to experience the best of East Africa? Then book a Kenya-Tanzania safari and get a chance to see amazing wildlife.