Kenya Safari: An Itinerary for a Magical African Adventure
The go-to resource for planning your safaris. Find all you need to know about the top destinations and make your wildlife travel dreams come true.
Discover Safari Holidays now
If you are looking to enjoy a slice of Africa by visiting only one country, then Kenya may be it.
Indeed, Kenya has it all: fascinating safari destinations, breathtaking landscapes, great hiking, and world-class stunning beaches.
While most travelers flock to Kenya to see the wildlife, it would be a shame to just focus on a safari in Kenya and not explore more of what this amazing African country has to offer.
That's why, in this article, we have put together an itinerary for your trip to Kenya that is created in such a way so you can pick and choose whichever destination fits your travel style and budget.
Travel guidelines for the re-opening of Kenya for international visitors
Starting August 1, 2020, all international flights to Kenya have been resumed.
However, there are strict requirements for traveling to the country. Travelers must not display any flu-like symptoms and their body temperature shouldn't be above 37.5C.
Upon entry, travelers may be required to undergo mandatory quarantine for 14 days. The government continuously updates the list of countries that are exempt from quarantine and the countries that are required to quarantine. You can find the list here.
All travelers arriving or transiting through Kenya need to show a negative PCR Covid Test taken no longer than 96 hours before flying, for passengers from countries that are exempted from quarantine, and 72 hours for those who need to quarantine.
Before flying into Kenya, travelers must fill a Travellers Health Surveillance Form on the website of the Kenyan Civil Aviation Authority. Once filled, it would generate a QR code that is scanned on arrival by a customs check.
Masks are required to be worn throughout the flight.
All passengers should adhere to the prevention and control measures, such as keeping physical distance, wearing face coverings in public, and hand hygiene.
For more details, kindly check out the official guidelines.
When is the best time to visit Kenya?
The great news is that Kenya offers good wildlife viewing year-round. However, the best time for a safari in Kenya is during the dry season: June to October. The vegetation is less dense which means the animals are easier to spot.
Kindly note that the Great Migration moves into Kenya in July and the animals stay here until October (when they go back to Tanzania).
And while you'll enjoy sunny, clear skies, and fewer mosquitos, it is important to know that the dry season is also the high travel season, resulting in busy (popular) parks – more on that later! – and high prices.
To escape the crowds and avoid paying high prices, you may consider traveling during the low season. But it is advisable to steer clear of March, April, and May, when the rain can be continuous, and some camps and lodges are closed.
From November to May, it is possible to see cute newborn animals. And if you are a bird lover, you can see migratory birds from September to April.
How long should I stay in Kenya?
The length of your trip to Kenya usually depends on your budget, the (vacation) days off you can take, and what you plan to do during your stay.
Should you decide to opt only for a short safari in Kenya, then a minimum of 5-7 days in the country is enough, considering you'd also likely need to take an overseas (long haul) flight to get here.
However, if you want to combine more than one park and visit other places, ideally, you'd want to allocate at least 14 days for this magical trip.
Being able to spend even more time in Kenya allows you to include more exciting things to do and slow down to really enjoy what the country has to offer.
A flexible Kenya itinerary for most popular safari destinations
Nairobi
Whether you fly from another continent or you are already in Africa, chances are your first stop will be Nairobi, Kenya's capital.
Even though you are not going to spend too much time in Nairobi, if you don't opt to be picked up by the safari organizer directly from the airport, you could plan to visit the city's highlights.
Especially if you are on a family trip, visit Nairobi National Museum, which highlights the history and culture of Kenya. One of the museum's sections is dedicated to the fossil human remains found in Kenya.
Fun fact: did you know that Kenya has the highest number of fossil human remains in all of Africa?
You may also check out Utamaduni Crafts Centre, one of the best craft markets in Nairobi. Even if you don't end up buying anything, the experience will be a very colorful one.
And although the Kenyan cuisine is not exactly internationally recognized as being fantastic, getting to know a culture also means eating its food. The staple is ugali, made from cornmeal. You can also try the spiced rice or collard greens. Meat lovers should add the roasted meat to their menu.
Lake Nakuru
Just 170 km / 105.6 mi from Nairobi (about 2.5 hours drive), Lake Nakuru has always been known as the place where you can spot endless numbers of beautiful pink flamingos. Unfortunately, things have changed in the past years.
The flamingos are born during the wet season at Lake Nakuru when the food supply is plentiful. But once the dry season comes, they flock to Lake Bogoria, where they can be seen year-round.
This happens because of the recent climate changes which aren't favorable for these birds.
That said, Lake Nakuru remains the best place to see rhinos in Kenya.
Do allow for 1-2 days to explore the park.
Masai Mara National Reserve
Continuing further to Masai Mara, expect to be on the road for about 6.5 hours (the distance from Lake Nakuru is about 300 km / 186.4 mi).
A short safari (3 days) is enough if you choose to focus only on the animal viewing.
The most well-known and visited safari destination in Kenya is Masai Mara National Reserve, the scene of the Great Migration. It is also well known for the scenic hot balloon rides over the endless savannah.
Home to black-maned lions and a unique forest that is shared with Serengeti National Park in Tanzania, Masai Mara is a dream come true for any animal lover.
You will be happy to know that travelers can catch a glimpse of all of the Big Five animals in Masai Mara.
Most safari goers often opt to visit a Maasai community, located just outside of the reserve. The Maasai are semi-nomadic pastoralists – they rear cattle and travel to new grazing pastures. Here, you can visit a village and even see some traditional dances.
---
Planning to go on a safari in Masai Mara but feel overwhelmed with choices? Then read our detailed guide to visiting Masai Mara National Reserve!
---
Amboseli National Park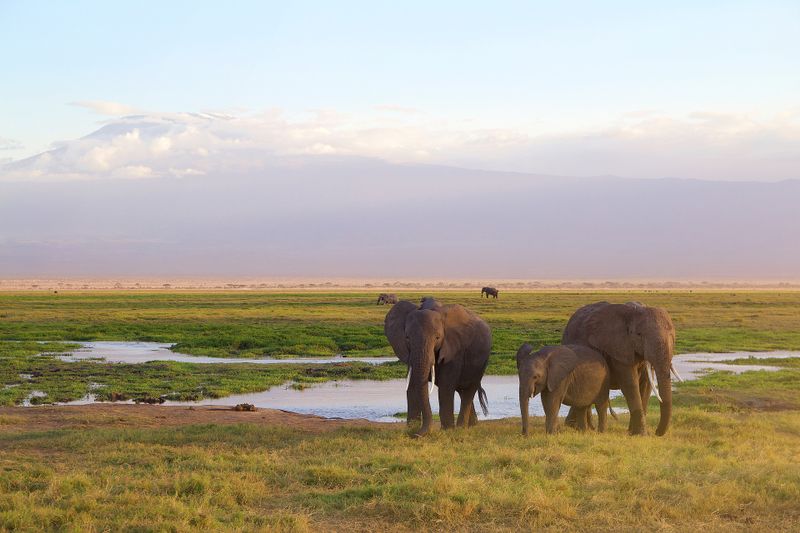 It would take at least 10-12 hours to cover the distance by road from Masai Mara to Amboseli. Therefore, it is advisable to break the trip along the way.
But once you get to the destination, it's so worth it!
A short safari (2-3 days) in Amboseli is enough to enjoy the amazing wildlife found here.
What's better than being able to get a glimpse at endless of herds of elephants? Having Mount Kilimanjaro as striking background, of course!
Amboseli National Park is the "Land of Giants" and is surpassed in popularity only by Masai Mara. Aside from the grassy savannah, the park also protects two swamps. During the wet season, Lake Amboseli temporary forms in the old Pleistocene lake basin. And you may be lucky to spot some flamingos here, too!
Unfortunately, not all of the Big Five are found in Amboseli (the black rhino has become extinct in this park).
---
Planning to go on a safari in Amboseli? Then read our detailed guide to visiting Amboseli National Park!
---
Combining Masai Mara, Lake Nakuru & Amboseli National Park
While it's very much possible to opt for booking a safari in each park and travel between the parks on your own, it is not recommended to do so unless you've already been to Africa before.
That is because, due to road conditions, you would likely spend quite a long time on the road. If you are planning to travel with children or the elderly, they'd benefit more from an organized tour combining these parks.
Taking out the stress of having to plan for drives in an unknown country will make it possible to enjoy the time spent in Kenya a whole lot more!
A very popular, affordable, and hassle-free way to see these amazing parks is to bundle them all in a longer safari.
Seven days in total would be enough to enjoy the highlights of each park. If you opt for more days, you can even include a beach holiday as part of the package.
Some of the popular combinations you may consider include:
Masai Mara National Reserve, Lake Nakuru, and Amboseli National Park
Masai Mara National Reserve, Lake Nakuru, Lake Naivasha, and Amboseli National Park
Masai Mara and Lake Nakuru
Amboseli National Park, Lake Naivasha, and Masai Mara
Note that the pickup and drop off are usually from Nairobi.
Getting more from your trip to Kenya: less crowded safari destination & beach towns
Tsavo National Parks
A short drive from Amboseli – about 2 hours and 90 km / 56 mi – you can find Tsavo National Parks. Covering 22,000 sq km / 8496 sq mi, Tsavo is made up of two parks and is the largest in Kenya.
Tsavo East National Park is the slightly larger of the two, featuring generally flat, dry terrain. Whereas, Tsavo West National Park has more mountains and swamps. You may spot all of the Big Five here.
As opposed to the very popular Masai Mara, Tsavo Parks don't get crowded even during the high season. It would make a good alternative should you opt for a more tranquil safari destination.
Diani Beach
Want to relax and enjoy some much-deserved time on the beach?
Diani Beach, Kenya's top beach resort, is about 7.5 hrs drive from Tsavo East.
Palm trees, crystal-clear water, and white powdery sand recommend Diana Beach as a picture-perfect destination. If you enjoy water sports, then you are in the perfect place to try SUP (stand-up-paddling), kitesurfing, go snorkeling or scuba diving.
But if you still crave some more time doing nature walks or want to see more animals, you are in luck. The Kaya Kinodo Sacred Forest is home to the Digos, a tribe that was kicked out of Somalia and eventually ended up on the southern coast of Kenya. They run forest walks as part of an eco-tourism project during which you'll learn about the history, traditions, and culture of the tribe.
And should you want to see Colobus monkeys, you may want to check out Colobus Conservation Center while you are here, too.
Mombasa
Kenya's main tourist destination – aside from its famous national parks – is Mombasa. You'd be delighted to know that the drive from Diani Beach is only 1.5 hours.
A melting pot of cultures, Mombasa is popular for its beaches, friendly atmosphere, and world-class accommodation.
While you probably won't be spending too much time here, you should plan a day or two of exploring this gorgeous city. The Old Town is located around Fort Jesus, a UNESCO World Heritage site. Get ready to put on your walking shoes and explore the area filled with souvenirs and charming restaurants.
Alternatively, you can take a day trip to Lamu, a town located about 340 km / 212 mi from Mombasa, and also a UNESCO World Heritage Site. You can explore Lamu Fort or check out the 23 mosques.
Should you crave more beach time, there are plenty of them nearby. Kikambala beach is great if you are looking for a resort-style stay, whereas Shela Beach on Lamu Island is entirely undeveloped not spoilt by mass tourism.
If you are planning to fly out of Nairobi, there's an overnight train available that's both affordable and comfortable.
Note: BookAllSafaris offers a flexible cancellation policy. Should you not be able to travel as scheduled, we'd be happy to help you alter your booking with the same organizer or a different organizer.
---
Ready for your magical trip to Kenya? Book a budget safari in Kenya and enjoy the best of what the country has to offer without burning holes in your pocket!