Family Safaris: How To Plan a Family Adventure of a Lifetime
The go-to resource for planning your safaris. Find all you need to know about the top destinations and make your wildlife travel dreams come true.
Discover Safari Holidays now
Did you know that Africa is an amazing destination for family vacations? In the great wilderness, children can get close and personal with the animals they've seen on their favorite cartoons, be in touch with nature and have fun learning about a new culture.
If you're thinking of planning a safari for your next family adventure, the team at BookAllSafaris.com is sharing some useful things to consider to help you have an amazing experience in Africa. As a bonus, we've handpicked and included three options that we think you and your children would both enjoy.
Choosing a destination
Having a great experience during a safari for families can depend a lot on choosing the appropriate destination. When making a decision, be sure to take your children's age into account. For example, going on a South African safari with a toddler is the ideal choice as South Africa is generally regarded as safe and easily accessible.
Have children that are slightly older (8 to 12)? Consider a family safari which includes guided walks. At this age, children can learn basic tracking skills and explore nature on foot.
If you have teens (13-18), you need to consider safaris with a lot of activities included, such as guided game drives, walking safaris, horseback riding, boating or cycling.
Choosing the best time to go
In most of southern Africa, the peak safari travel period is during the dry season (May to November). This is when you can spot the wildlife as it comes to water and the vegetation would less likely be. Plus, this season coincides with the western hemisphere's school children's summer vacation!
If you're planning to head to countries with excellent infrastructures, such as South Africa and Namibia, you can go year round as there's always something in season. East Africa is another place where you can go anytime of the year.
The peak season for going on a family safari in Tanzania and Kenya is during the Christmas vacation. But if you want to see the wildebeest migration, it's best to plan your trip between June and September.
If you decide to go during the rainy season, you are likely to spot more baby animals, which children usually enjoy observing. This makes the Easter break a good option for a family safari, too.
Choosing activities
Research on activities which allow your children to really get up close and personal with nature. Watching a lion sleep in the sun is not as exciting as being able to lure an ant-lion from its pit with a blade of grass.
Safaris, in general, are quite passive. And children can become bored a lot easier than adults. Make sure there are some activities available to "burn off" all that energy. A swimming pool at the lodge is a great idea. Even putting up a tent or a campfire can keep them busy and engaged.
Consider self-driving
Self-drive safaris offer the ultimate freedom when it comes to the family needs. Surely, it can only be done in places where the infrastructure – and the parks' rules – allow for it. If this is something that you're interested in doing with your family, South Africa and Namibia are excellent choices.
Consider exclusivity
In the countries where self-driving isn't an option – such as Zambia, Tanzania or Botswana, private safaris are the best way to ensure freedom. The itinerary is shaped around your needs, tastes, and preferences. You will have an experienced guide and you are free to explore the nature at your own pace. If these choices are too pricey for your budget, you can "team up" with another family and split the cost.
Learning during a safari
Many lodges offer Junior Ranger programs in which children take guided walks and learn how to track animals. This allows children to get a better understanding of the wildlife and its environment, as well as the importance of preserving it.
Other lodges offer programs centered on the local culture, where children play traditional games, for example. And they can even learn astronomy by pick up constellations in the unpolluted sky.
Staying Healthy & Safe
The major concern when it comes to visiting Africa is malaria. It is important to remember to use insect repellent and treat your clothes with bug spray. Also, remember to take your malaria pills before and after the trip. It is, however, recommended for families with children under the age of 8 to avoid countries which still have a risk of malaria.
Another health or safety concern to look out for is the water. Unfortunately, Africa doesn't have the best drinking water and diseases can easily be transmitted through it. But this shouldn't be a huge issue as your safari tour operators would usually have bottled and filtered water available.
Last but not least, to prevent from getting ill during the trip, make sure that you and your children have all the necessary vaccinations done well in advance.
Ready to plan your family safari? Here are three excellent options.
\
This cheap family safari holiday is suitable for families starts in Nairobi, explores the Maasai Mara, Lake Nakuru, and Amboseli. Throughout your trip, you will have access to a professional safari guide. Daily game drives are included in the package. Families with smaller children can opt for rooms made of stone, while families with teens can try out sleeping in tents.
Availability: March till November
Price: US$2,601 for 4 persons (in a quadruple room). Children aged between 3 to 11 years old are eligible for a special discount of 50% sharing with their parents.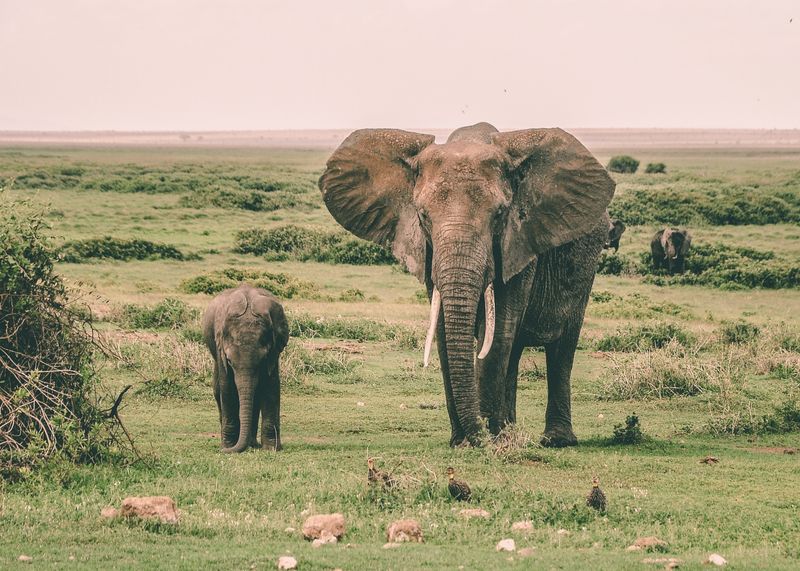 The 4-days safari will allow you to explore the mesmerizing Amboseli National Park, mostly known for its elephant population. This relaxing tour is particularly suitable for families and includes daily game drives in a customized 4x4 Toyota safari mini-van, game viewing, entrance to all parks visited, bird watching, and daily meals and bottled water in the safari vehicle. The camp offers a swimming pool and a bonfire.
Availability: year round
Price: US$1,658 for 2 persons (in a private double room). Children below three years old are free of charge. Children between 3-12 years shall be charged 75% of adult rate, while children between 12-18 years old shall be charged 90% of adult rate.
A classic safari in Kruger National Park that is perfect for families looking for an affordable safari adventure. Enjoy game drives, Big Five game viewing, and daily delicious meals on a thrilling bush camp experience.
Availability: year round
Price: US$742 for 2 persons (in a private double room). Children under 3 years old are free of charge, while 4 to 12-year old children are charged 50% of the rate.
---
Is an African safari on your travel bucket list? Be sure to check out BookAllSafaris.com's amazing selections of budget safaris and make your safari travel dream come true!