Safari in South Africa: Your Itinerary to Addo Elephant Park and the Garden Route
The go-to resource for planning your safaris. Find all you need to know about the top destinations and make your wildlife travel dreams come true.
Discover Safari Holidays now
For most travelers heading to South Africa, exploring the Garden Route is high on their bucket list.
A scenic stretch of road on the south-east coast of South Africa, the Garden Route is certainly enchanting. However, its beauty is not the only reason travelers flock here: stops along the way allow you to discover hidden towns, beaches, and excellent activities.
Addo Elephant National Park, the best place to see large herds of elephants in the country, can also be easily added as a part of an itinerary which comprises the Garden Route.
With a lot of places to explore along the road, it may not be so simple to plan your itinerary.
That's why, in this article, we have put together a flexible set of suggestions that allow you to discover the best of the Garden Route and Addo Elephant National Park according to your travel preferences and budget.
But first, when is the best time to visit South Africa's Garden Route?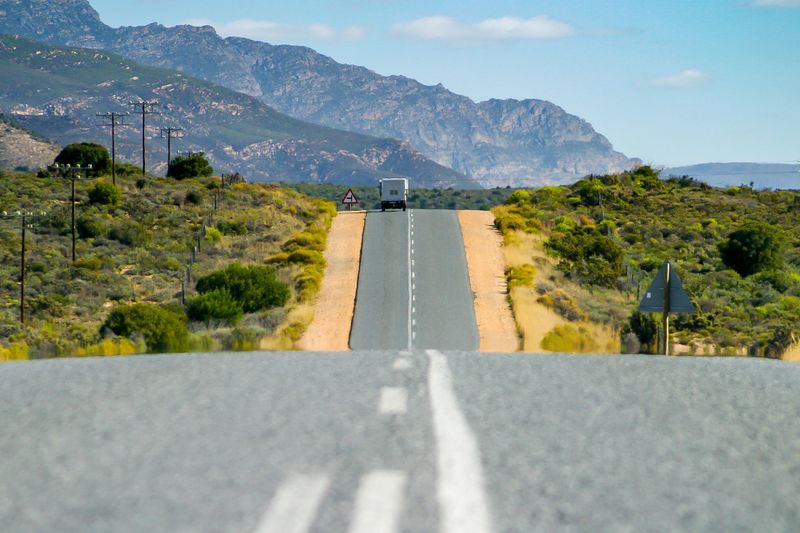 Summer (November to March) is considered the best time to embark on a trip to explore the Garden Route. The weather is at its warmest and the attractions are all open.
Spring (September to October), however, offers the best chances for whale watching.
On the other hand, in Addo Elephant Park, summer falls during the wet season and is the best time to see newborn animals. The wildlife viewing is still good but the dry season (May to September) is best.
Should you be on a tight budget, in order to avoid the crowds and hopefully save some money, it's recommended to visit the area in late summer or early fall, between February and April.
How long should I allow to visit the Garden Route?
The total length of your trip depends on what you plan to do, how many stops you want to make, your budget, as well as the number of days you have available for this vacation.
It is recommended to spend at least 3 days exploring the Garden Route. But in order to truly experience the best of what the area has to offer, you can allow up to 14 days for this trip.
However, 5 days is enough to enjoy checking out Addo as well as a couple of towns along the way.
South Africa Itinerary: exploring the Garden Route and Addo Elephant Park
Cape Town
Cape Town will be your first stop on this itinerary, although the Garden Route starts in Mossel Bay (which is almost 400km/248mi away).
The reason? Cape Town International Airport (CPT) is served by a variety of international and domestic flights, making it a very good hub for travel into the Cape area.
Also, most safari organizers offer pickups and drop offs from Cape Town.
While most travelers either wait for the transfer at the airport or hurry to start the drive on the Garden Route, we recommend stopping in Cape Town for a day or two.
The bustling city is steeped in history, which is apparent at every corner. Make sure to include a stop at the District 6 Museum, where you can learn about the racial injustices the blacks in South Africa had to face in the 1970s.
If yo plan on taking a family safari in South Africa, allow for some time to visit the South African Museum, which tells the story of the region's abundant wildlife.
Victoria & Alfred Waterfront offers a lot of chances to enjoy a good meal, spend time browsing the shops or taking in the view from the Ferries Wheel. Robben Island, where Nelson Mandela was imprisoned, is also just a quick ferry ride away.
Don't leave Cape Town without hiking Table Mountain (or at least taking the cable car to the top). And if you are up for it, make your way to the Cape of Good Hope, thought to be the southernmost point of Africa (spoiler, it is not!). The drive is only about an hour and a half (67.6km/42mi).
Mossel Bay
Photo credit: Satdeep Gill
The quickest way to get to Mossel Bay is by plane. In a mere 50 min, you'll reach your destination and can embark on exploring the Garden Route in all its glory. Else, you can travel by land either on a bus (takes a little under 6 hours) or in a rental car (about 4h 15 min).
It's up to you whether you choose to spend half a day or stay overnight here. But, no matter your choice, there are plenty of exciting things to do.
One of the most bustling beaches along the Garden Route is Santos beach in Mossel Bay. The good news is that it's a family-friendly beach so your little ones can have fun building sandcastles while you tan under the sun.
If the beach is not your cup of tea, then hop on the Diaz Express Train to catch of glimpse of the must-see attractions in the area, as well as great views over the Indian Ocean. You may even spot whales (if you visit during the season!)
Or, perhaps, you want to see the 3,000 seals? Then hop on a boat trip to Seal Island!
Traveling as a couple? Enjoy a wine tasting experience or take a romantic cruise around Seal Island and Pinnacle Point.
For the more adventurous travelers, the St Blaize Hiking Trail is a great choice for a fun and active outdoor day trip. The trail is 13.5km/8.4mi and starts below the Cape St Blaize lighthouse, which offers stunning views over the ocean.
Oudtshoorn
Photo credit: thomas
Get on a bus and, in less than an hour and a half, you'll be in Oudtshoorn. Should you decide to drive, it takes about the same.
Dubbed the "ostrich capital of the world", Oudtshoorn is the largest town in the Little Karoo region. Its economy relies having on tourism and ostrich farming.
But you'd be stopping here for the excellent outdoor activities. How long you decide to stay here for depends on what you plan to do but consider an overnight.
Did you know that you can take a hot air balloon tour in Oudtshoorn? The sunrises are magical, and the entire experience ends with champagne for breakfast.
Should you prefer a more down to Earth experience, set out to explore the Cango Caves, together with a guide. Try singing in the giant "concert hall" where even the most off-key voices can sound great!
Depending on your fitness level, you can opt for a standard tour or a more challenging one which explores the twisting tunnels on hands and knees.
Are you an avid mountain biker? Then try the high-velocity mountain bike adventure down the Swartberg Pass. Or if you prefer a more relaxed way to explore the mountains, take a guided hiking trip.
Knysna
Another short drive (about 1.5 hours by car or bus), and you are back on the coast, in Knysna.
Located between George and Plettenberg Bay, it is always green thanks to its Mediterranean climate. Known as the capital of oysters, it is a must-see place on your Garden Route itinerary. Allow at least an overnight here.
The heart of Knysna is the lagoon protected by the sea by monolithic sandstone "Heads", which makes this stretch of ocean extremely dangerous. You can see the Heads either on a boat tour around the lagoon or if you hike along the shore.
Of course, you can spend time on one of the gorgeous beaches, too. Buffalo Bay offers stunning views of the coast and is sandy, whereas Coney Glen Beach is small and rocky.
If you are adventurous, then why not try bungee jumping off the Bloukrans Bridge.
And do make sure that you don't leave Knysna without sampling the local oysters and wines.
Plettenberg Bay
Photo credit: Mario Micklisch
A mere 30 min drive (by car or bus) from Knysna, you can find Plettenberg Bay, the perfect gateway for Tsitsikamma National Park. Allow for an overnight here, as well.
If you plan your trip between June and September, you have a good chance to spot humpback and southern right whales here. Even if you travel outside of these months, you can still choose a whale watching tour as there are chances to catch of glimpse of other types of whales, as well as dolphins.
Should you prefer to stay on firm land, hike the Robberg Nature Reserve. There are three hikes to choose from – 2km/1.24mi, 4km/2.5mi, and 11 km/6.8mi – and all of them offer stunning views of the coast. The longest is a full loop around the entire peninsula.
Seeking more adventure? Head to Tsitsikamma National Park, where you can choose between kayaking, tubing, zipline canopy tour, and many more exciting activities.
If you want to see monkeys of all shapes, then head to Monkey World, a sanctuary dedicated to primates which were rescued from zoos or after being kept as pets. During the tour, you can learn how the sanctuary is working to give the primates a second chance in life.
There's also a bird sanctuary - Birds of Eden – and a carnivores' sanctuary – Jukani. Just like Monkey World, these two sister sanctuaries house rescued creatures that are offered a second chance in life.
Jeffrey's Bay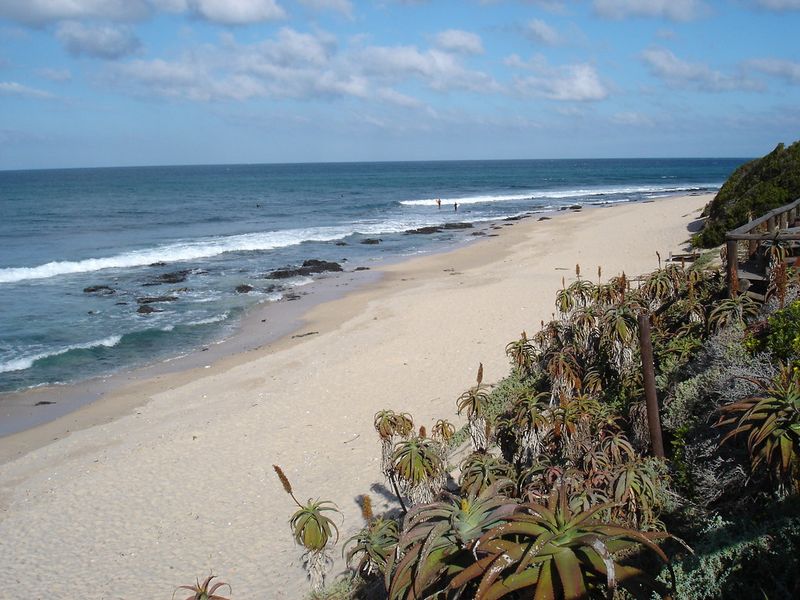 Photo credit: Julien Carnot
Further east on the coast, about 2 and a half hours by bus and 2 hours by rental car, you reach Jeffrey's Bay. The town is famous for surfing, never-ending summers, and its white sandy beaches.
Allow for at least a day or two here.
Even if you've never surfed before, there are quite a lot of surf schools that will be more than pleased to teach you the basics during a short stay.
Not a fan of surfing? Then try sandboarding! Very similar to snowboarding, it is practiced on the sand dunes and luckily Jeffrey's Bay is home to some of the biggest and most spectacular of them in South Africa.
Or you can experience horse riding on the beach. Don't worry if you've never ridden a horse before, as you can take lessons here!
If you enjoy hiking, there is a 4km/2.5mi trail in the Kabeljous Nature Reserve. In season, you can even see the flock of pink flamingos. And the Seekoei River Nature Reserve is a bird watcher's paradise, overlooking a river.
Addo Elephant National Park
From Jeffrey's Bay, travel through Port Elizabeth, and head to Addo Elephant National Park. It can be done by taking a bus and then a taxi (and the total travel time is almost 2 and a half hours) or by driving a rental car (about two hours).
While the park can be easily tackled as a day trip, why not stick around for at least an overnight?
One of the reasons to visit Addo is to catch a glimpse of the herds of majestic elephants. There are over 600 of them in the park, so the chance to spot some is high.
Also, you may just encounter not just the Big Five animals, but also the Big Seven. Aside from the possibility to spot the African lion, the leopard, the black and white rhinoceros, the African elephant, and Cape buffalo, you may also enjoy the sights of the southern right whales and great white shark. That's, of course, if you plan to visit Algoa Bay, where these marine creatures live.
The park is very diverse which contributes to its success. While you won't have to battle the crowds here, you will get a chance to see spectacular sand dunes, a variety of animals, and even very interesting little critters.
Last stop on your itinerary
Once your safari in Addo National Park has come to an end, there are several choices for the last stop on your itinerary.
You could travel back to Port Elizabeth, which is just an hour drive south. And then hop on a plane to Cape Town or Johannesburg before you board the flight back home.
You could make a stop in Bloemfontein – a relaxed city which allows you to slow down a little – and then continue to Pretoria, before you fly back home. The easiest way to do this leg is to drive back to Port Elizabeth and then take two internal flights.
Combining Addo Elephant National Park & Garden Route on an organized safari
While it is very much possible to take public transportation or drive – especially if you are already familiar with South Africa – it can still be stressful to tackle the logistic of doing this trip independently.
A very popular, affordable, and stress-free way to enjoy this part of South Africa is to opt for an organized safari that includes Addo.
Seven days are enough to enjoy what the area has to offer, but you can spend as long as 18 days if you want to include other activities (such as yoga or surfing) on your itinerary.
Some of the most popular combinations you may consider include:
Cape Town, Cape Point, Oudtshoorn, Knysna, Addo National Park, Mossel Bay, Cape Town (7 days)
Cape Town, Cape Point, Oudtshoorn, Knysna, Addo National Park, Oribi Gorge Nature Reserve, Durban, Johannesburg (9 days)
Cape Town, Mossel Bay, Oudtshoorn, George, Knysna, Plettenberg bay -Tsitsikamma Forest, Port Elizabeth, Addo, Kruger National Park, Johannesburg (15 days)
Note: BookAllSafaris offers a flexible cancellation policy. Should you not be able to travel as scheduled, we'd be happy to help you alter your booking with the same organizer or a different organizer.
---
Ready for a stunning trip to South Africa? Book a budget safari in South Africa and enjoy amazing wildlife without burning a hole in your pocket!