Memorable Experiences on African Safaris
The go-to resource for planning your safaris. Find all you need to know about the top destinations and make your wildlife travel dreams come true.
Discover Safari Holidays now
Everyone leaves Africa with unique memories of their safari experience.
A vast variety of landscapes and fascinating wildlife are waiting for you on an African safari.
Whether it's witnessing the sunrise from a hot air balloon or catching the first glimpse of the Big Five animals, a trip to Africa offers a myriad of spectacular wildlife experiences.
Without a doubt, everything you choose to do on a safari will create wonderful memories. But some of them will stay with you forever.
To make it easier for you to plan your next big trip to Africa, in this article, we share some memorable experiences you could enjoy on a safari in Africa.
Note: BookAllSafaris offers a flexible cancellation policy. Should you not be able to travel as scheduled, we'd be happy to help you alter your booking with the same organizer or a different organizer.
Witness the Great Migration
The heart-pumping Great Migration is the largest mass movement of land mammals on the entire Earth.
Giant herds of wildebeests, zebras, gazelles, elands, and impalas make their way from Tanzania to Kenya and back, each year, crossing vast expansions of grassland.
At some point in July, the herds are likely to reach the Grumeti River, thus crossing from Tanzania into Kenya. This is, perhaps, the most dramatic moment as the herbivores rush across the water, avoiding the hungry crocodiles.
Once in Kenya, they make the trek to reach another dangerous point: the Mara River. Having also survived this hurdle, they now graze peacefully on the open plains of Masai Mara.
Having the chance to witness the movement of these animals is an experience you aren't likely to forget very soon.
Catch a glimpse of the elephants on the bank of the Chobe River
If you've always dreamed of witnessing endless herds of elephants, make your way to Botswana's Chobe National Park.
Marvel at these magnificent creatures and catch a glimpse of the largest land animal. The best way to do so is on a Chobe River cruise. Sail down the river as you witness elephants and buffaloes frolicking on the riverbank.
»Read more: All You Need to Know About Visiting Chobe National Park
Get up close and personal with gorillas in Uganda & Rwanda
Few things are as special as trekking in the tropical forest, hoping to witness mountain gorillas in their natural habitat.
Because there are only a small number of these legendary creatures living in the wild and the need to protect them is high, there are strict rules and high fees to partake in such an experience.
Given the restrictions, make sure to book your gorilla trekking tour ahead of time. Permits are issued on a first-come, first-served basis and there's a limited number of visitors that can trek daily.
Consider your fitness level when you enquire about the tour as you'll be dealing with hours trekking in the jungle, as well as high humidity. Those less fit will be allocated gorilla families at lower altitudes, whereas those who are fitter will trek to higher altitudes.
»Read more: What You Need to Know About Mountain Gorilla Trekking in Uganda
Spot all of the Big Five animals
Most visitors come to Africa for the chance to witness the marvelous Big Five animals.
Consisting of the African lion, the black rhinoceros, the African elephant, the African leopard, and the Cape buffalo, these magnificent animals can be spotted in many of Africa's safari destinations.
However, only a few of them are home to all five. Do remember that, although all of them may live in some parks and reserves, the chances to spot the animals depend on many factors. For example, leopards are known to be elusive, whereas rhino numbers are dwindling across the content.
South Africa's Kruger National Park is, without a doubt, the top choice for those who want to catch a glimpse of these animals.
Known for the huge population of elephants, Chobe National Park in Botswana also offers the chance to spot the other four Big Five animals.
While the vast plains of Masai Mara and Serengeti are known for the Great Migration, where herbivores come, the predators follow. Unsurprisingly, the ecosystem consisting of the two great reserves and Ngorongoro Crater are home to all of the Big Five.
Climb Mount Kilimanjaro
Photo credit: Nyayo Tours & Safaris
The highest and largest mountain in Africa, Mount Kilimanjaro has attracted adventurers for many years. Climbing this spectacular mountain is a lifetime achievement and is high on many hikers' bucket list.
While climbing Mount Kilimanjaro might not be right for everyone, the experience is out of this world. You'd not only be able to catch a glimpse of magnificent animals along the way, but you'll also witness spectacular sunsets and grab some amazing photos as you make your way to the summit.
If you don't plan to climb it but still want to take in all its glory, head to Amboseli National Park in Kenya. The wildlife encounters here come with a spectacular backdrop of this glorious mountain.
Experience the magic of a walking safari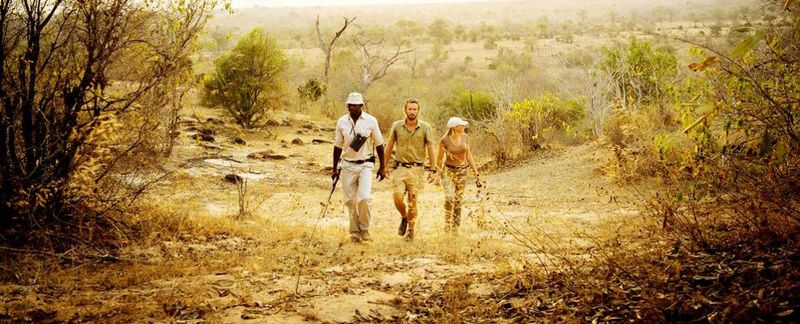 Photo credit: Selous Ngalawa Camp
Leaves rustling beneath your feet, unfamiliar scents tickling your nostrils, and your guide points to a footprint on the ground. This is what you can expect to happen on a walking safari in Africa.
While it can be rather "scary" when considering the chance to get too close to the wildlife responsible for that footprint, you should know that walking safaris are safe. And offer a completely different perspective than seeing the animals from the jeep.
Most walking safaris take place in the morning, as animals are more active at dawn. And you'd want to avoid the African heat, too.
Put on your comfy walking shoes, listen carefully to your guide, and have a magical walk in the African bush.
Glide across the water in a mokoro
Photo credit: Unlimited Safari
Botswana is not only famous for the herds of elephants residing in Chobe National Park.
It's also home to the ever-changing Okavango Delta. And what best way to explore the waterways than on a mokoro safari?
Mokoros are canoes that were traditionally dug out of one tree trunk. Nowadays, in an effort to preserve nature, they are crafted out of fiberglass.
A wooden pole is used to guide the mokoro on the waterways. All you need to do is relax and take in the breathtaking sites.
»Read more: Planning an Enchanting Itinerary in Botswana
Catch the sunrise from a hot air balloon
Photo credit: Afrikakukaye Tours and Safaris (T) Ltd
Africa's sunrises and sunsets are said to be the best in the world.
There's, indeed, something magical about experiencing the sun rising over the vast landscape as wildlife wakes up for the day. Or from a tropical beach.
That said, probably the most exciting way to witness the sun rising is during a balloon safari in Africa. You are in for a very early wake-up call, but the experience is magnificent. You'll be flying just above the treetops, watching the African animals go about their day.
---
Are you planning to go on an African safari but afraid your budget won't allow for memorable experiences? Browse our selection of budget safaris in Africa and have the time of your life without breaking the bank.