Wildlife Tours in Madagascar: A Flexible Itinerary to Explore the World's Most Stunning Animals
The go-to resource for planning your safaris. Find all you need to know about the top destinations and make your wildlife travel dreams come true.
Discover Safari Holidays now
Best known for its lemurs and baobab trees, Madagascar is a truly unique safari gem. As one of the world's 17 'megadiverse' countries that harbor the majority of Earth's wildlife, the island boasts more than 200,000 species.
Due to the Earth's crust movements, Madagascar separated from the rest of the African continent over 160 million years ago, which resulted in 80% of local animals being endemic to the island. While you cannot spot the Big Five here, you will definitely be amazed by a variety of unique and unusual wildlife species.
As the world's 4th largest island with plenty of natural attractions, it's advised to have a well-thought-out itinerary when visiting Madagascar. This is why we're sharing a flexible 15 days itinerary which will allow you to make the most of your trip and pick and choose destinations that fit your travel style and budget.
When is the best time to visit Madagascar?
Madagascar is a fairly large country, and the weather differs depending on the region you're visiting. While it's relatively warm in all regions all year round, it's advisable to avoid traveling from late December to the beginning of March. This is when heavy rain and possible cyclones occur and also when most of the national parks are closed.
The best time to visit Madagascar is from April till November.
The high season is from July till September, so if you want to avoid the crowds, it's advised to travel from April till June. While there might be an occasional downpour, generally there will be plenty of sunshine. The island is returning to life in full swing after the rainy season break, the flora is lush and vibrant, lemurs and chameleons are getting out of their shelters, humpback whales are returning to the coasts, and the locals are setting up to celebrate rice crop festivals around the island.
After the peak season has started in July, the temperatures stay mild (15°-20° C, 59°-68° F) until September and the air is dry, which creates ideal conditions for trekking and sightseeing. However, some of the rainforest species might be in hibernation.
The most popular months to visit the island are October and November. The temperatures are high (28 °C, 83° F), daylight is long, and there is little rain. But above all, this is the time when cute baby lemurs start clinging to their mother's backs, which is a sweet and unforgettable sight. And of course, you can admire the fauna in all its beauty.
While December is the hottest month in Madagascar, it also marks the beginning of the wet season, so you might get caught in a shower often. On the plus side, if you are keen to see lizards and snakes, December is the time when they are the most active.
How long should I stay in Madagascar?
Most of wildlife tour itineraries in Madagascar are 10-14 days long. The itineraries usually include activities such as daily nature and wildlife spotting, trekking in the rainforest, game drives, guided visits to several national parks, craft workshop visits and time on the beach.
Considering undeveloped infrastructure and long distances, it is not recommended to plan an extensive itinerary, including several climatic and floral zones, on your own. The transit periods can take days and domestic flights are quite expensive. With an organized safari and chartered flights around the island, you can be sure to visit all the highlights and get the most out of each day.
Day 1: Arrival in Antananarivo (Tana)
Most of the itineraries start in the capital city of Antananarivo often shortened as Tana. Most likely, you'll fly into the Ivato International Airport (TNR), which is the country's main transportation hub. The airport is connected by direct international flights with popular destinations such as Paris, Istanbul, Dubai, Johannesburg and Nairobi.
Good to know: While most of the safari tours offer transfers from the Ivato airport to your accommodation in Antananarivo included in the base price, make sure to confirm the details with your operator ahead of time.
If you have some time on your hands after your flight, you can explore Ivato and visit a crocodile farm located just 2.3 miles (3.7 km) from the airport. In this beautiful park spanning 7.4 acres (3 hectares), you can see a variety of crocodiles including some well over 19.7 feet (6 m) long!
Photo credit: Hery Zo Rakotondramanana via commons.wikimedia.org
In the center of Antananarivo, you can spend a couple of hours to see the capital and learn about its history. Admire the stunning panoramic views from Rovā of Antananarivo – a royal palace complex that was once home and currently is a resting place for the rulers of the Kingdom of Imerina and Kingdom of Madagascar between XVII and XIX century.
After you've soaked up some amazing vistas, it's advised to visit Parc de Tsarasaotra. This small green oasis with two lakes is home to many birds including 14 endangered endemic species which can be easily watched and photographed.
Antananarivo is also known for its amazing local markets including Marché Artisanal de La Digue and Analakely Market ('Zoma'), which used to be the largest open-air market in the world. The variety of local handicrafts found here such as wood carvings, embroidery items, leather goods, semi-precious stones, spices and raffia products will make great souvenirs from your trip.
Days 2-6: Morondava, Bekopaka and Tsingy de Bemaraha National Park
Tsingy de Bemaraha National Park
Photo credit: Olivier Lejade via commons.wikimedia.org
Another must-visit UNESCO World Heritage site located near the city of Bekopaka is Tsingy de Bemaraha National Park. The area with exceptional endemic biodiversity is characterized by incredibly sharp gray jagged limestone formations, jutting from the cliffs of the Manambolo River. Some of the rock pinnacles in the 'forest of sharp stones' reach over 320 feet (100 m).
The word 'tsingy' in Malagasy translates to 'the place where one cannot walk barefoot', and it is fully justified considering the sharpness of the labyrinth of stone needles. Trekking here is more challenging than in other areas, but several convenient routes will lead you through the canyons, gorges, narrow cave passageways, suspension bridges and mangrove forests and swamps. And the display of fauna and flora on the way is astonishing. Nearly half of the species are locally endemic!
Photo credit: Heinonlein via commons.wikimedia.org
The park's landscape varies from dry forests, grassy savannas and lowland bushes to humid tropical forests in the canyons. The limestone area seems to exist in perfect harmony with the surrounding flourishing nature featuring species of aloe, orchids, baobabs and Madagascar's native banana plants.
The Tsingy de Bemaraha park is home to 11 lemur species including endemic Bemarha woolly lemur and the Sambirano lesser bamboo lemur. The avifauna boasts 100 bird species with some of the critically endangered ones such as Madagascan fish eagle and Madagascan ibis. You can also spot locally endemic reptiles and amphibians including Antsingy leaf chameleon.
Avenue of the Baobabs
One of the most iconic sights in Madagascar, this red dusty road lined with gigantic baobabs is located near the city of Morondava, about 435 miles (700 km) from Antananarivo. The baobabs along the avenue are the tallest of total six endemic species found in Madagascar and are called renala by the locals which translates to "mother of the forest".
Kirindy Forest (also known as the Swiss Forest) located 37 miles (60 km) from Morondava is a great place to meet some of Madagascar's nocturnal animals such as the fossa and the endemic endangered giant jumping rat. The forest is also home to 8 species of lemur and several endemic birds and reptiles.
You can also opt to spend some extra time in Morondava, which is a laid-back seaside town with sandy streets and beach bungalows. It's a great chance to soak up some sun between exploring the attractions around.
Day 7: Antsirabe
Antsirabe
Photo credit: Bernard Gagnon via commons.wikimedia.org
Antsirabe, also known as "The City of Water", is located 105 miles (170 km) from Antananarivo. During your ride to Antsirabe, you'll enjoy stunning vistas comprised of small villages with traditional tribal houses, terraced rice fields, valleys and hills.
Even though Antsirabe is an important industrial center of Madagascar, it is arguably the most attractive city in the country. It was founded by Norwegians in the XIX century, and it definitely has the European look and feel! This city is also famous for many thermal springs, ground mineral water and mild climate.
The best way to explore Antsirabe is on a rickshaw tour through its wide avenues with plenty of colorful artisanal workshops and fruit and vegetable stalls. The tour will allow you to discover local traditions of silk-weaving, embroidery, stone cutting and semi-precious stone handicraft.
Photo credit: Bernard Gagnon via commons.wikimedia.org
Tip: Do you have some time on your hands in Antsirabe? Consider embarking on an hour-long scenic drive (and a short hike) to Lake Tritriva. The emerald green lake fills an oval crater of the extinct volcano and is surrounded by cliffs and lush green forests. The locals tell the legend of two young lovers who tragically ended their lives by jumping into the lake. They reincarnated in the shape of a tree with intertwining branches – the beautiful Madagascan version of Romeo and Juliet.
Day 8-9: Ranomafana National Park, Ambalavao and Ranohira, Fianarantsoa, Andringitra National Park
Ranomafana National Park
Photo credit: Rachel Kramer via commons.wikimedia.org
Stretching for over 161 square miles (41 600 hectares), the Ranomafana National Park boasts one of the most beautiful tropical rainforests in the world. It was established in 1991, following the discovery of the endangered golden bamboo lemur, in order to protect the unique biodiversity of the local ecosystem. The park is a part of the Atsinanana forests and therefore, registered in the World Heritage Sites of UNESCO.
Ranomafana park encompasses varied landscapes located at a range of altitudes. The area is covered with diverse lush vegetation varying from lowland rain forest to cloud forest and high plateau forest in steep mountainous terrain.
The trees covered with mosses, lichens and orchid, green-covered cliffs, cascading waterfalls, and many rivers make it an amazing place for a hike or picnic after which you can relax in a natural thermal pool. Taking a guided walk will also allow you to see the daily lives of native people in small villages and admire their hard work on vanilla, coffee and banana plantations.
The park is home to 12 lemur species and numerous chameleons, frogs, butterflies and reptiles. Over 100 species of rare birds can be observed throughout the Ranomafana park including the ground-rollers, brown mesite, red-fronted coua, pygmy kingfisher, Madagascan yellowbrow, velvet asity and collared nightjar.
Most of the organized safari itineraries include guided nocturnal viewing walk around the park during which you can spot chameleons, frogs, insects and the famous mouse lemur.
A special highlight is a fossa – the largest Madagascan cat-like carnivore similar to a small cougar. Known to many from the movie Madagascar, this lemurs' most feared predator hunts by day and night, mostly in the forested habitat.
Tip: On the road between Antsirabe and Ranomafana National Park, make a stop in Ambositra, the center of Madagascar's wood carving industry. The city is famous for the Zafimaniry art - woodcarving and marquetry technique listed as the UNESCO cultural heritage.
Ambositra is full of specialized workshops where you can buy meticulously carved souvenirs. And the architecture of the city is stunning, featuring the beautiful ornamented wooden balconies and colorful shutters.
Photo credit: HoneyGaLe via commons.wikimedia.org
Another worthwhile stop located close to the Ranomafana National Park is Fianarantsoa which is considered the cultural capital of Madagascar. The city's upper part with the village-like old quarter and church on top of the hill has a captivating charm. From there, you can admire a panoramic view of the surrounding valleys and plantations.
Andringitra National Park
Photo credit: Chris via commons.wikimedia.org
The Andringitra National Park is one of the most biologically diverse places in Madagascar and is definitely a scenic spot to visit. With the granite massif of the Andringitra Mountains reaching 8,720 ft (2658 m) at its highest point and many valleys and ridges, this mosaic landscape is truly impressive. This lush green area is home to over 100 different species of birds, 13 species of lemurs and 55 species of frogs.
The national park and surrounding areas of Tsaranoro valley are ideal for hiking, cycling or climbing. There are several well-developed hiking routes (3.7-17 mi., 6-28 km long) with varying levels of difficulty. You can opt to explore the tropical forest, trek sacred caves and cascades or climb the park's highest point, Pic Boby.
The two must-see spots are Rianbavy and Riandahy waterfalls dramatically plummeting over 980 feet (299 m) down the mountain. Both waterfalls can be found along the Asaramanitra route which is one of the shortest trekking routes in the park (3.7 mi., 6 km long).
The Anja Community Reserve is located 9 miles (15 km) away from Ambalavao. The park has been created by the locals in response to the progressive destruction of nature by bush burning.
Photo credit: Frank Vassen via commons.wikimedia.org
The 74-acre (30 ha) reserve is home to the population of over 300 ring-tailed lemurs, many species of chameleons including the Malagasy giant chameleon and the small leaf chameleon, six species of snakes and the endemic lowland streaked tenrec, a hedgehog-like mammal with black and yellow stripes.
Photo credit: Jean-Louis Vandevivère via commons.wikimedia.org
Tip: On the road to the Andringitra National Park from the Ranomafana National Park, you can make a stop in the large sub-tropical town of Ambalavao famous for the Antemoro papermaking workshop. Admire the local handicraft specialty, the papyrus-type paper infused with dried flowers from which locals make wall hangings, lampshades and other decorations.
Day 11-12: Isalo National Park
Isalo National Park
Photo credit: JialiangGao via commons.wikimedia.org
Isalo National Park is the protected area of 314.83 square miles (815.40 km2) that is reminiscent of the Grand Canyon in Arizona. The park's dramatic scenery was formed from Sandstone Mountains which date back to the Jurassic time. Sculpted through the ages by wind and water, today the park's landscape is comprised of sandstone formations, deep canyons, palm-lined oases and grassland.
This stunning reserve boasts rich wildlife scene including 14 types of nocturnal lemur, as well as common brown lemur, acrobatic Verreaux's sifaka and ring-tailed lemur and many reptiles and frogs. There is a plethora of 80 bird species in the park, especially around the Canyon des Nymphes area.
The vegetation in the Isalo park is impressive as well. Some of the floral highlights are pachypodium, the succulents with bulky trunks resembling small palms, the pink flowers of Madagascar periwinkle and all kinds of grasses and shrubs typical to prairies.
Photo credit: Antony Stanley via commons.wikimedia.org
There are many trekking trails of varied difficulty available for you to explore the park, so remember to wear comfortable clothes, put on lightweight hiking boots and bring some water. Your hike will be well-rewarded by a swim in one of the natural blue water pools or a picnic next to the waterfall.
Tip: The views from the Isalo Window, a boulder with a triangular hole in the middle located in the park, are great during the sunset.
Day 13: Ifaty
Ifaty
Are you looking to rest and unwind after the days filled with adventure-packed activities? Ifaty is a great place to relax on the palm-fringed white sandy beach. This small fishing village located on the southwest coast of Madagascar boasts over 300 days of sunshine a year making it ideal for all kinds of water activities such as swimming, surfing, boating, snorkeling and scuba diving.
That said, Ifaty has lots to offer for a wildlife enthusiast as well. In Reniala Private Reserve, located 2.5 miles (4 km) away, you can explore the spiny forest, the unique xeric ecosystem with 95% of the flora being endemic to Madagascar.
Some of the best spiny forest specimens found here include 1200-years-old baobab with 492 inches (12.5 m) diameter and trees with octopus-like waving branches. In the forest, you can also spot endemic birds, reptiles, tortoises, colorful chameleons and ring-tailed lemurs.
Photo credit: JialiangGao via commons.wikimedia.org
From July to August, you'll be able to experience the annual humpback whales migration which is one of the local highlights. Another unique experience in Ifaty for not faint-hearted is swimming with sharks.
Day 14-15: Andasibe-Mantadia National Park
Photo credit: Karen Coppock via commons.wikimedia.org
This stunning rainforest park is located 99 miles (160 km) away from Antananarivo. During the four-hour ride to the park from the capital, you can admire the scenery of rural Madagascar with lavish tropical forest, rice fields, waterfalls and small villages perched on hillsides.
In Andasibe-Mantadia National Park, you will get the first opportunity to get up close and personal with the lemurs, the primitive primates endemic to the island. Many wildlife tours include guided drives around the park (typically three-four hours long).
During such rides, you'll get to see some of the most known lemur species including diademed sifaka, common brown lemur, red-bellied lemur or bamboo lemur. Bird watchers will surely appreciate the opportunity to spot some amazing birds such as paradise flycatcher, blue coua, Madagascan flufftail or crested drongo.
Photo credit: Frank Vassen via commons.wikimedia.org
There are also convenient trekking trails available throughout the park. Even if you're not an avid hiker, you'll be able to easily reach the Analamazaotra Special Reserve and the Lemur Island to get acquainted with some of the rarest lemur species including the largest and most noisy Indri lemurs, tawny lemurs and black-and-white ruffed lemurs.
Shall you opt for a longer and more challenging hike, you'll get to experience the park in its depths and catch sight of some rare reptiles, amphibians and insects. Since the fauna of Madagascar is only semi-explored, you might just come across some new unknown species!
If you're staying for the night in Andasibe, be sure to join a guided nighttime nature walk along the park. This walk features furry-eared dwarf lemur and mouse lemur - the smallest of all the lemurs and the smallest primate in the world.
Photo credit: FC Casuario via commons.wikimedia.org
Tip: Do you have some spare time in your itinerary? Make a stop in Peyrieras Reptile Reserve which is located along the main road between Antananarivo and Andasibe. This small privately run reserve houses many species of endemic chameleons, geckos, frogs, snakes, crocodiles and butterflies.
Around 87 miles (140 km) east from Andasibe, you'll discover another amazing private reserve called Palmarium (also known as Ankanin'ny Nofy which translates to 'nest of dreams'). This reserve that can only be reached by boat covers 123.5 acres (50 hectares) of diverse and beautiful landscapes including Lake Ampitabe, coastal sand dunes, mangroves and littoral forest.
Palmarium is home to some amazing animals including indris, sifakas, black lemurs and many chameleons and tenrecs. It is known for the unique flora such as very rare Lemurophoenix and Dypsis palm trees.
Photo credit: nomis-simon via commons.wikimedia.org
A definite highlight of your visit to Palmarium is an evening boat ride featuring the rarest and most endangered nocturnal lemur species – the aye-aye. Due to their demonic appearance with black wiry fur, large eyes, and long slender fingers with claws, locals believe them to be evil. Tragically, partially because of their scary appearance, these rare species are on verge of extinction.
Note: BookAllSafaris offers a flexible cancellation policy. Should you not be able to travel as scheduled, we'd be happy to help you alter your booking with the same organizer or a different organizer.
Putting it all together: safari itineraries combining multiple destinations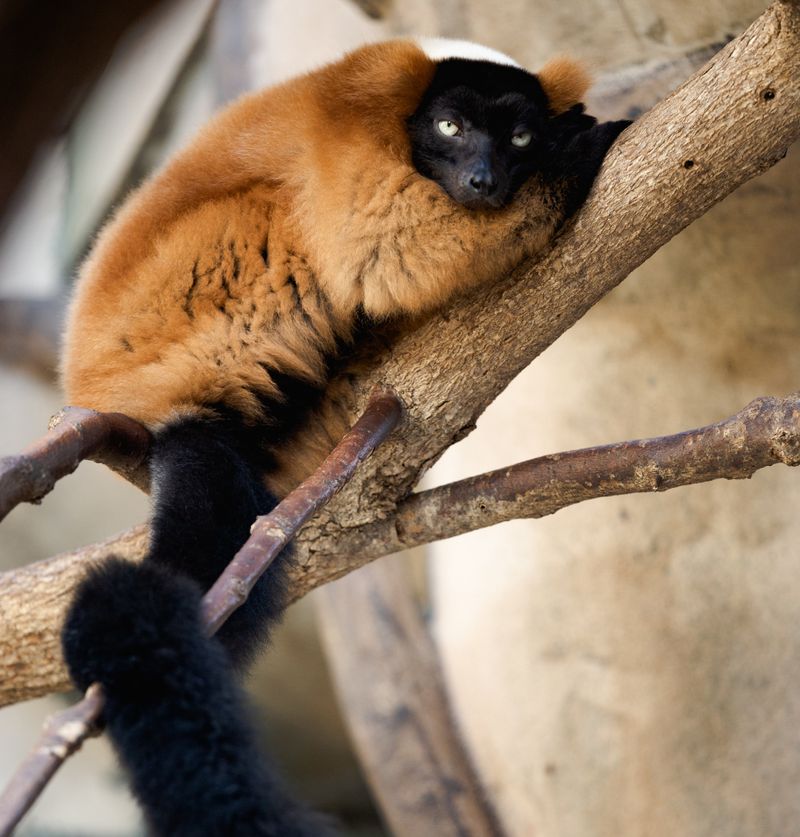 The itinerary described above comes highly recommended for a two weeks stay. It allows exploring the diverse fauna of the island along with visiting some of Madagascar's cultural and historical highlights and spending some time in the stunning beach towns.
That said, in case you have less time on your hands it's very much possible to adapt this itinerary for a shorter trip. You can opt to forgo visiting Morondova, Bekopaka and Tsingy de Bemaraha National Park and focus on exploring in-depth the Eastern part of the island.
This way, you'll be able to visit the main lemur-viewing destinations in a shorter time frame (10-11 days). Such itinerary includes a day trip to the Tsingy de Bemaraha National Park and Lemur Island, a boat trip to Palmarium where you can see the famous aye-aye, a visit to Antsirabe and a two days visit to Ranomafana National Park.
---
Are you excited about the diversity of wildlife in Madagascar? Book a budget safari in Madagascar to come up close and personal with some of the world's most unique and amazing animals.