Celebrating the Biggest Conservation Success Stories of 2018
The go-to resource for planning your safaris. Find all you need to know about the top destinations and make your wildlife travel dreams come true.
Discover Safari Holidays now
The end of the year is a time for reflection. But, with all the negative hype about the current state of our planet in the media, it's easy to think that this year was… well… terrible.
Global warming, plastic-filled oceans, deforestation, and poaching have finally come to the forefront of the news and it's about time. African elephants are evolving to lose their tusks in the face of poaching pressure, the jaguar trade is at an all-time high in South America, and bear bile farms are flourishing across Vietnam.
However, there is this saying that goes "Bad news travels at the speed of light; good news travels like molasses". So, in a bid to brighten the end-of-year blues, we thought we could speed up the rate of good news and show the brighter side of conservation.
Here are the 5 biggest conservation success stories of 2018.
1. Whale populations are starting to recover

People have been whaling for thousands of years. If it wasn't the Inuit tracking down Arctic whales, it was the Basque who hunted in the Atlantic, the Japanese in the Pacific, and not to mention the Norwegians who were among the first to hunt whales, as early as 4,000 years ago.

Whaling was a multi-million-dollar industry and by the late 1930s, 50,000+ whales were being killed annually. What's more, some scientists estimate that more whales were hunted in the early 1900s than in the previous four centuries combined.

But there is good news for those who have yet to tick a whale watching safari off of their bucket list. International bans on commercial whaling in the North Pacific and Southern Hemisphere have helped some whale populations recover.
Earlier this year, the IUCN downgraded the fin whale's status to vulnerable. Also, the gray whale was also downlisted from critically endangered to endangered.
2. Hong Kong banned its elephant ivory trade

Can you imagine a Big Five safari in Africa without spotting an elephant? The thought is unbearable but not too far off from being a reality.

The most gentle animal of the Big Five has been the face of conversation for years now and, in a historic turn of events, Hong Kong's Legislative Council voted to (finally) phase out the city's domestic ivory trade.
One city might not seem a big deal considering how low African elephant populations have dropped, but this is seen as a massive conservation success story given that the ivory industry played an integral part in sustaining the Chinese art of carving.
China actually used to have its own species of elephant, but – ironically enough – it has been extinct for more than two millennia. And, while the ban might not be good news for future carvers, it is fantastic news for the African elephant whose species is currently listed as vulnerable.
---
Travel with a purpose! Go on a conservation safari and contribute to the protection of the world's most endangered animals!
---
3. Part of the Amazon rainforest is now protected land

Image credit: Carlos Henrique Reinesch
The Amazon rainforest is one of the most underrated safari destinations in the world, home to at least 40,000 plant species, 3,000 types of fish, 1,300 bird species, 430 mammals, and a staggering 2.5 million different kinds of insects!

Unfortunately, around 137 species become extinct each day and a whopping 1.5 acres of the Amazon vanishes every single second. This, coupled with the fact that Brazil's new leader, Jair Bolsonaro, wants to harvest the rainforest's riches, has raised fears among environmentalists and indigenous communities.

But there is a silver lining as Colombia's Serranía de Chiribiquete, the world's largest protected tropical rainforest national park, is now declared a UNESCO World Heritage site which will, hopefully, remain untouched against deforestation in the Amazon.
4. China banned the "medical" use of tiger bone and rhino horn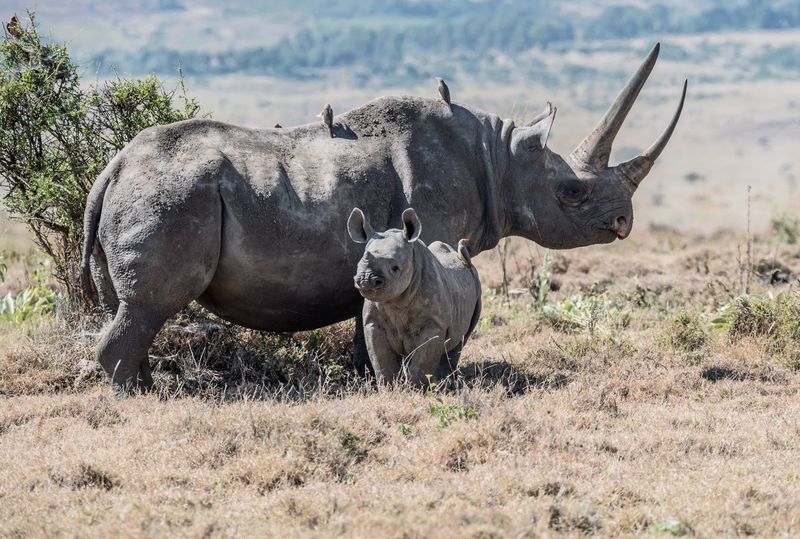 Traditional Chinese medicine has a 2,000-year history and is still followed by millions of Chinese every day. It is based on using all natural ingredients to cure numerous ailments, which at face value is not bad.

However, some of these medicines also include the use of animal parts, particularly rhino horn and tiger bone. One traditional remedy is a medicinal tiger bone wine, made with ground tiger bones and up to 147 herbs and spices. While rhino horn is ground into a powder and is considered either to be a painkiller and a detoxifying agent.
In October, Beijing announced that it was lifting its ban on using these endangered animals for traditional medicine, but after an outcry from environmental groups around the world, China has announced that it would postpone lifting its ban on the legal use of rhino and tiger parts for traditional medicine and research, pending "further study."
5. China's ivory trade ban is now the law

Image credit: Ng Han Guan
It's pretty safe to say that 2018 has been the year of the elephant, with numerous conservation projects and groups dedicated to eliminating ivory trade.

Not only have four major international auction houses agreed to no longer sell any artifacts made entirely or partly from rhino horns, but China's ivory trade ban is now the law of the land. Much of the world's ivory demand comes from mainland China, where a ban on ivory trade came into force on the last day of 2017, making 2018 the first full year with the prohibition.
Final thoughts

Although we've had some pretty dark times in 2018, there have also been huge bright spots that show that it's not too late to make a difference in the world.

It's up to us to change the way we view the majestic animals that we share this planet with. Small changes can have a huge impact on the conversation of many endangered animals.
---
Leave nothing but footprints, take nothing but photos, and kill nothing but time. Make a difference to wildlife in Africa by going on a conservation safari in South Africa.