Top African Countries to Add to Your Safari Bucket List (in 2021)
The go-to resource for planning your safaris. Find all you need to know about the top destinations and make your wildlife travel dreams come true.
Discover Safari Holidays now
People save for years to travel to Africa and finally tick off their bucket list destinations and activities.
Whether you've always wanted to witness the Great Migration in Serengeti, dream to go on a gorilla trekking tour through the tropical forests of Uganda, or you've fantasized about spotting the Big Five animals, don't wait any longer and make 2021 the year when you finally go on the African safari of your lifetime.
In this article, we share the top African safari destinations to add to your bucket list, as well as what makes them such great choices.
Note: BookAllSafaris offers a flexible cancellation policy. Should you not be able to travel as scheduled, we'd be happy to help you alter your booking with the same organizer or a different organizer.
Photo credit: Sir Michaels Safaris
A safari is often described as a "once in a lifetime" vacation. And while there are many ways to create lasting memories throughout Africa's top destination, nothing is more awe-inspiring than going on a gorilla trekking tour.
With less than 500 mountain gorillas living in the wild in Rwanda (as of December 2019), understandably, there are a lot of regulations as to how many visitors are allowed at a certain time.
Ideal gorilla trekking conditions in Volcanoes National Park last from June to mid-September and from December to February. Planning in advance is a must. Permits should be secured at least 3 months before the trip and they are issued on a first-come-first-served basis.
But Rwanda is also home to other fascinating primates. Chimpanzee trekking tours in Nyungwe Forest National Park offer another incredible adventure to take part in. The permits are much cheaper, but the regulations are just as strict. With only 8 people allowed on a tour each day, make sure to book yours in advance.
» Read more: Traveling to Rwanda – What You Need to Know to Plan an Unforgettable Trip
Photo credit: Ahsante Tours
The annual Great Migration is one of the world's natural wonders. Two million wildebeest, gazelle, and zebra move across the vast planes of Serengeti and Masai Mara in search of green pastures and water.
Plan a bucket list safari in Tanzania to witness this incredible annual event. And while seeing the herds from the ground is fascinating, the best way to capture the vastness of the planes and the incredible number of animals is from the air, during a balloon safari.
»Read more: What to Expect on a Balloon Safari in Tanzania
In the Serengeti, you can catch the animals during the first half of the year. The calves are born, typically, from January to March. And where baby animals abound, the predators aren't far behind either. Be on the lookout for the lions, hyenas, leopards, and cheetahs lurking nearby.
By April, the herds start to move towards west and north. Depending on the rainfall, the roads might be tricky to navigate, making April and May a less ideal time to plan your trip.
From late May to early July, the herds are grazing peacefully in western Serengeti. Now is the best time to observe the animals' mating habits.
Sometimes in July, the herds will make it to the Grumeti River, which marks the crossing into Kenya. A dramatic spectacle takes place, with the millions of animals rushing to cross as the crocodiles are waiting for their easy meal. Indeed, a "fast food" feast for the predators!
Also in Tanzania, you can experience another once-in-a-lifetime bucket list adventure: climbing Mount Kilimanjaro. While it might not be everyone's choice for a leisure holiday, it sure is a great option for those craving some adrenaline. Knowledgeable guides and local experts will make sure that your trip will unfold without a hitch.
The trail will take you through a rainforest, allowing for some great wildlife viewing. You'd be able to spot leopards, buffalos, and Colobus monkeys. Along the way, the stops are carefully organized so that you adapt to the height and also rest before the next day's hike.
»Read more: Is Climbing Mount Kilimanjaro Really for You?
Photo credit: Discovery Transfer and Tours CC
Bordering South Africa, Namibia has some of the most mesmerizing and spectacular scenery in the entire world.
That you'd feel like you aren't even on Earth is quite an understatement. Not to mention that if you are a passionate photographer, this African country will give your lenses some entrancing opportunities to snap the photos of a lifetime.
The sunsets in Etosha National Park are known to be theatrical. But as fascinating as they are, the park is also renewed for its wildlife. The arid landscape is dotted with waterholes that attract the animals. Once the night falls, the floodlights around waterholes – which are close to accommodation – are turned on and you can witness a magical spectacle.
The black rhinoceros are common visitors and you'd also be able to spot the endangered black-faced impala. The park is also home to healthy populations of elephants and lions. Springbok, zebra, and cheetahs also reside in Etosha.
Home to the world's oldest desert, Namib-Naukluft National Park features some out-of-this-world dunes. And while large animals are scarce, in this part of the country you can find a large population of reptiles.
»Read more: Travel in Namibia - Best Things to Do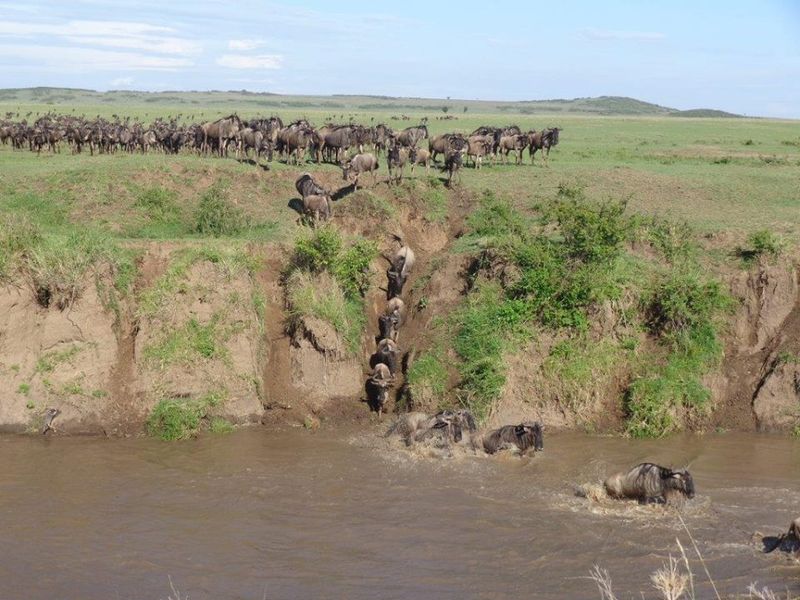 Photo credit: Explorers Wild Adventures
Follow in the footsteps of Ernest Hemingway and add Kenya to your bucket-list African safari destinations.
From July to December, the Great Migration passes through the country. The animals that managed to successfully cross the Grumeti River now face another watery obstacle: the Mara River.
By September, the herds of wildebeest, zebras, and gazelles have reached the lush Masai Mara plains. From now until November, it's the best time to go on a Great Migration Safari in Kenya. The animals are grazing peacefully while the predators are lurking nearby, waiting for the best opportunity to grab their next meal.
By the end of November, the rains are returning to Serengeti, which means the herds are slowly making their way back to Tanzania.
Beyond the savannah and wildlife, Kenya is also known for its enchanting beaches. If you are looking for some peace and tranquility, head to Diani Beach, near Mombasa.
»Read more: Safaris in Kenya - Top National Parks to Visit
Photo credit: Absolute Zambia Safaris
This magnificent African country is still well on the off-the-beaten-path when it comes to safaris.
Last year's data (a/n 2019) shows that as many as 50% of the visitors only set foot in the country to visit Victoria Falls. But there's so much more to discover here.
About 30% of the country is dedicated to wildlife as the areas are either national parks or game reserves. An abundance of animals is waiting for you and you won't have to worry about the lookout areas being crowded!
Plan your bucket-list safari in South Luangwa National Park. While game drives offer a chance to spot the wildlife, you'll be delighted with much closer encounters if you join a walking safari. You'll be able to witness herds of elephants and antelopes as well as lions and wild dogs.
A superb way to observe wildlife is from the water level. A canoe safari in Lower Zambezi National Park is a magnificent way to get up close and personal with nature. Expect an abundance of sightings, including elephants, hippos, buffalos, lions, and leopards.
Photo credit: Madagascar Tropic Voyage
Blame it on the movie industry, but Madagascar is quite synonymous with lemurs.
Catching a glimpse of these playful creatures is indeed a good reason to add the country to your African safari bucket list.
A dream outdoor destination, Madagascar is home to beautiful hiking trails winding through lush tropical forests, towering baobab trees, and also boasts a fascinating culture.
Lacking the infrastructure of the traditional safari countries, Madagascar is still one of the places to explore if you enjoy heading off-the-beaten-path. This is one major reason why the parks are never crowded.
The most visited of them is Isalo National Park, located in the country's southwest. The dry climate makes it a great place to visit year-round. Chances are, you'll be rewarded with views of the ring-tailed lemurs. Some of them are used to humans, which means you can see the troops up close.
Aside from the lemurs, the park is also famous for its diverse landscape, including mountains, grasslands, tropical oasis, and deep canyons.
»Read more: Wildlife Tours in Madagascar - A Guide to Some of the World's Rarest Species
If seeing the Big Five animals is on your bucket list, then you should plan a safari in South Africa.
Kruger National Park is easily accessible thanks to the paved roads, has an incredible amount of facilities, and is quite affordable, too. The biggest draw is that it's home to all of the Big Five, as well as other hundreds of species. No matter when you visit the park, there's always something to see here.
Because of the great infrastructure throughout the country, South Africa is an excellent choice for a family safari. There are plenty of family-friendly activities and accommodations so that your kids will be well cared for during the holiday. Also, most of the country is malaria-free.
Looking to add even more spectacular encounters to your trip? Located just outside of Cape Town, Boulders Beach is home to a colony of African penguins. Although right in the middle of a residential area, this is one of the few places where you can observe African penguins in their natural habitat.
The best views are from Foxy Beach, where a boardwalk allows you to observe them from a very short distance.
»Read more: 10 Best Things to Do in South Africa
Photo credit: East African Jungle Safaris
Uganda is one of the three countries where you can witness mountain gorillas in the wild. It is also a more affordable option than Rwanda.
Home to about 450 endangered gorillas, Bwindi Impenetrable National Park is open for trekking year-round. However, the best time to go on a gorilla trekking tour is from June to July and December to February.
June & July are peak travel months, so make sure to book your permit well in advance.
During the low season, the permit prices are lower and typically there are fewer visitors. However, the weather is very wet, forcing some of the camps and lodges to close during this time of the year.
»Read more: What You Need to Know About Mountain Gorilla Trekking in Uganda
Spotting primates in their natural habit might be a very popular bucket list activity, but in Uganda, you can also catch a glimpse of a really unique animal: the shoebill!
It can be found in Queen Elizabeth National Park and looks like it belongs in prehistoric times. This solitary bird looks like nothing you've witnessed before.
»Read more: Traveling to Uganda - What You Need to Know
Photo credit: African Coast Travel and Tours
Landlocked in southern Africa, Zimbabwe is home to the thundering Victoria Falls, one of the most astonishing falls in the world and also one of the largest.
The walk along the top of the gorge features some astounding viewpoints with gorgeous photo opportunities.
The river feeding the falls, Zambezi River, is protected by a national park. The spray created by the falls creates a lush rainforest, home to ferns, palms, and unique trees. The vegetation supports a variety of animals, including hippos, crocodiles, elephants, Cape buffalos, and gazelles.
For even more animal sightings, plan a safari in the country's largest national park, Hwange National Park. Known for a large number of elephants, it is also home to a healthy population of predators, such as wild dogs, hyenas, lions, leopards, and cheetahs.
»Read more: Safari in Zimbabwe - What You Need to Know to Plan Your Trip
---
Looking forward to embarking on the safari of a lifetime? Join a private safari in Africa and enjoy a trip tailored to your needs.